Astronauts venture outside station for spacewalk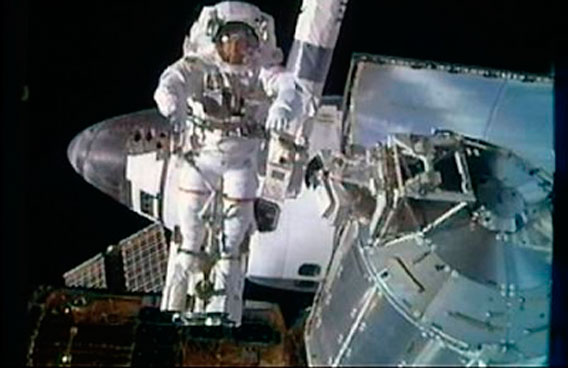 Two NASA astronauts ventured outside the International Space Station on Monday to prepare the orbital outpost for life after the United States retires its fleet of three space shuttles.
Astronauts Stephen Bowen and Alvin Drew, who arrived at the space station on Saturday aboard the shuttle Discovery, returned to the station's airlock after spending about 6-1/2 hours in space.
Bowen and Drew prepared the station's exterior to receive a final storage module, which Discovery carried into orbit when it blasted off on Thursday from the Kennedy Space Center in Florida on its 39th and final mission.
Rookie spacewalker Drew also trapped a sample of space vacuum in a metal canister for Japan's space agency. The so-called "Message In a Bottle" - a reference to a popular song by The Police - will be viewed by museum-goers on Earth.
The spacewalk went smoothly except for a technical glitch on one of the station's robotic arms that forced astronauts to retack while hauling a failed 800-pound (363 kg) cooling system pump.
NASA is ending its 30-year shuttle program in about six months. Sister ships Endeavour and Atlantis are expected to make their final flights this spring and summer, respectively.
Bowen was added to the crew last month after Tim Kopra, who had been intended to be the lead spacewalker, was injured in a bicycle crash. Kopra, still on crutches, talked Bowen and Drew through their paces from Mission Control at Johnson Space Center in Houston.
"It's good to hear your voice," Kopra radioed to Bowen and Drew shortly before they ventured outside the outpost, a $100 billion project of 16 nations that has been under construction 220 miles above Earth for more than a decade.
"It should be the other way around there," Bowen replied.
A second spacewalk is scheduled for Wednesday during Discovery's weeklong stay at the space station.
At the Kennedy Space Center, NASA was preparing for another finale - the launch of shuttle Endeavour targeted for April 19.
The shuttle is due to carry a $2 billion Alpha Magnetic Spectrometer particle detector to the station. Overseeing the Endeavour crew is astronaut Mark Kelly, husband of Arizona congresswoman Gabrielle Giffords, who is recovering from a gunshot wound after an assassination attempt in January.
The United States is retiring the shuttle program due to high operating costs and to develop spaceships that can travel to the moon, asteroids and other destinations beyond the station's orbit.
Follow Emirates 24|7 on Google News.