DGCX March volumes climb 41%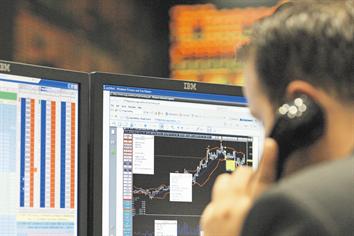 Dubai Gold and Commodities Exchange (DGCX) said on Wednesday that trading volume in March grew 41 per cent year-on-year to 228,777 contracts at a value of $11.25 billion.
A press statement said that year-to-date (YTD) volumes increased 38 per cent to reach 683,492 contracts.
Average daily volumes in March reached 9,947 contracts, a 41 per cent increase from the same month last year. Average YTD daily volumes increased 36 per cent year-on-year to reach 10,849.
A key highlight of March 2011 was the strong performance of gold futures, which grew 51 per cent year-on-year and 57 per cent on February 2011 to reach 49,011 contracts. Silver futures also witnessed robust growth rising 84 per cent year-on-year and 102 per cent from last month to reach 4,370 contracts.
Eric Hasham, CEO of DGCX, said: "The rise in DGCX Gold and Silver futures trading this month is consistent with the increased demand globally for the precious metals, which have become safe haven investments amidst global economic uncertainty. DGCX offers investors some of the best tools available in the region to manage price risk and volatility in an uncertain market. Gold and Silver futures traded on DGCX are cleared and protect market participants against counterparty risk, a critical need in the current economic environment."
DGCX currency futures accounted for three quarters of total volumes in March. Total currency volumes increased 40 per cent on last year to 171,630 contracts. Yen/Dollar futures saw a strong rebound in March rising 304 per cent from last month to reach 3,207 contracts. Indian Rupee futures volume rose by 1349 per cent on March 2010 to touch 138,667 contracts.
Australian dollar, Canadian dollar and Swiss franc pairs futures grew 35 per cent, 109 per cent and 57 per cent on February to reach volumes of 1,732, 511 and 1,645 contracts respectively. Meanwhile Euro/Dollar and Sterling/Dollar saw healthy expansion, rising 44 per cent and 18 per cent on last month to reach volumes of 14,775 and 11,093 contracts respectively.
WTI crude futures declined 24 per cent from last year to stand at 3,766 contracts. Year-to-date volumes of WTI crude rose 6 per cent to reach 14,222 contracts.
DGCX is supporting and speaking at the Middle East Forex Expo 2011 this month as part of its objective of educating market participants about opportunities in the currency derivatives market.
Follow Emirates 24|7 on Google News.