Microsoft, UAE firm sign cloud service deal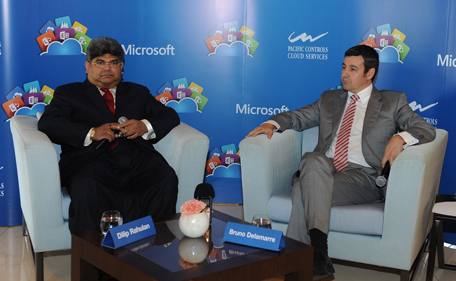 Microsoft Gulf has tied up with the Dubai-based Pacific Controls Cloud Services (PCCS) to offer cloud services to individuals, private companies and the government entities which will help them cut capital expenditure (capex) by up to 60 per cent.

Dilip Rahulan, Executive Chairman of Pacific Controls, said: "The services will help companies reduce 60 per cent of their cost in capex that they pay upfront. So you really mitigate that whole initial costs and through the subscription model you will be able to use software as per your requirement and scale it in terms of resources; actually you make it elastic depending upon when you want to use it; it'll only be customised for you."

Under the deal, Microsoft Gulf has authorised to sell its software and services to PCCS through its portal to individuals, SMES, large corporate and government entities.

Bruno Delamarre, Microsoft Gulf's Regional Director Mid-Market and Partner Solutions, said: "The business model is a bit different. Earlier the company used to invest as a capex for software and hardware services and servers. So the total cost of ownership for the company at the start was very high. Because they have upfront investment to make sure that they can benefit from it, so todays' announcement is a break from that model. Basically you don't have to buy those servers; you can use cloud services."

Dilip Rahulan said it is as economical for individual user as for the corporate world. The company has displayed charges on its website.

"As an individual you can subscribe to our services. Whatever is now available within Microsoft Office you can use it. One of the most interesting things is that until 3 weeks ago, Microsoft was not available for some tablets. With this new release you can download it and start using it. The payment will be made virtual. It is in the cloud you can use it anywhere in the world," Rahulan told Emirates 24l7.

He said the user can save the space on his device by using software through cloud computing only and doesn't need to down the software.

"You can use it inside the cloud; you can create cloud account and utilise within it. You can use HMI (Human Machine Interface) a pad or phone in order to be your gateway. You can have it subscribed as a cloud based service… You don't have to download any software just start using through cloud computing wherever you have, Rahulan added.

Follow Emirates 24|7 on Google News.