Developers launch projects on Dubai's Palm Jumeirah, Deira Islands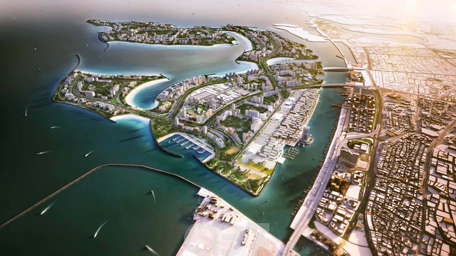 Two new developments have been announced on two man-made islands in Dubai - Palm Jumeirah and Deira Islands - on Sunday, ahead of a slew of new project likely to be unveiled at the Arabian Travel Market, which begins today.

Nakheel, a master developer, announced plans to build a 750-room beachfront resort at Deira Islands, a 15.3 square kilometre mixed-use new waterfront city.

The four-star is coming up in partnership with RIU Hotels & Resorts, a Spanish hotel operator.

"Under this new partnership, we will introduce one of the world's biggest, most respected names in hospitality and an entirely new concept in hotel accommodation to Dubai," Nakheel Chairman Ali Rashid Lootah said in a statement.

Dh1.5-billion Serenia Residences on the Palm Jumeirah Crescent. (Supplied)

"This is a major milestone for our growing hospitality business and a significant step towards creating a new range of affordable, family resort-style hotel accommodation in the emirate, in line with the government's tourism vision for 2021."

Deira Islands will add 40 kilometres, including 21 kilometres of beachfront, to the emirate's coastline.

The developer plans to build 10 hotels at various locations such as Palm Jumeirah, Deira Islands, Dragon City and Ibn Battuta Mall over the next five years.

Dh36m for a penthouse

Separately, Palma Development, a private real estate development company, and Banian, a real estate investment company, announced the launch of Dh1.5-billion Serenia Residences on the Palm Jumeirah Crescent.

"Everybody on the Crescent has a mixed use project but we are the only ones to launch a 'pure' residential project. It's going to be 100 per cent dedicated to residences although the plot came with a hotel licence but we discarded it," Kareem Derbas, Chief Executive Officer, Palma Holding, said at a press conference.


He revealed that the company had already paid 100 per cent for the land ($100 million) and has deposited the mandatory 20 per cent of the construction value with the Real Estate Regulatory Agency (Rera), the regulatory arm of Dubai Land Department (DLD).

"We only need to sell about 20 to 30 per cent of the project to enable us to complete the project, so it is a very conservative approach," he added.

Hassan H. Nia, Chief Executive Officer, Banian, called the location of the plot a "sweet spot" on the Crescent, starting, "You have views of Burj Al Arab and Burj Khalifa on the back and the Palm, Atlantis and Dubai Marina view on the other side."

Designed by Hazel Wong, the architect behind Emirates Towers, the project will have 250 apartments (one- to three-bed units), with prices ranging from Dh2 million to Dh36 million for penthouses.

Sale of the units will commence on May 5.

"Work has started on the project and is expected to be completed by end of 2017," Derbas added.
Follow Emirates 24|7 on Google News.