Dubai Shopping Festival: 32-day boost for economy and tourism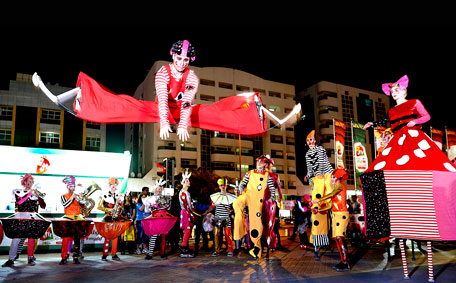 At the beginning of every year, the Dubai Shopping Festival (DSF) sets the momentum for economic, tourism and business growth for the emirate.

Running consequently for the 21st year, the 32-day event excels in offering prizes that range from cars to mobiles phones and gold to cash. These prizes have not only become a magnet for shoppers but have also helped changed the lives of thousands of citizens, residents and visitors – thus cementing Dubai's growing stature as a major global player in the retail, entertainment and leisure sphere.

DSF, which is "the longest running and the largest shopping festival in the world," has attracted over 56 million visitors to the emirate in the last two decades, resulting in total spend of more than Dh145 billion.
The shopping festival has played a very important role in raising the profile of Dubai as a premium shopping and tourist destination. The festival was launched in 1996 as the brainchild of His Highness Sheikh Mohammed bin Rashid Al Maktoum, Vice-President and Prime Minister of UAE and Ruler of Dubai, and was based on his vision to transform Dubai into a modern city, and a major trading and shopping hub of the region.

"Dubai is welcoming the world this month with the DSF, one of the most important features of the emirate's annual retail and tourism calendar.
"At the halfway stage this year, the festival has already given robust economic indicators from across the retail sector. Feedback collected from retailers, hoteliers and businesses across other key economic sectors are quite positive and promise a healthy start to 2016 for the retail community in Dubai," said Dubai Festivals and Retail Establishment (DFRE), an agency of the Department of Tourism and Commerce Marketing and the organiser's of DSF.
# Boom time
At the half way mark, businesses and patrons of the shopping festivals are happy to see their cash registers ringing. Shopping malls and gold and jewellery shops are reporting brisk business.
Tawhid Abdullah, Chairman of Dubai Gold & Jewellery Group, says: "When we are half past the DSF campaign, our participating jewellery outlets mark an average growth of 20 to 25 per cent compared to their corresponding sales last year."
He reveals participation from the trade has gone by 20 per cent compared to 2014 which is an optimistic sign with here being a positive wave among the jewellery shoppers as well.
Majid Al Ghurair, Chairman, Dubai Shopping Malls Group adds that this year the Dubai Shopping Malls Group (DSMG) has taken a step ahead by signing on 18 new neighbourhood malls, offering a vital platform for community malls and neighbourhood malls, creating a whole new twist to the shopping scenario.
It has launched instant winning scratch cards in community malls and gold prizes, with the two promotions currently going on in 23 malls.
"This collective initiative ensures a remarkable growth in the business, accounting for an increase of approximately 12% and further highlights Dubai as a place where innovative retail ideas flourish," he discloses.
Global Village has seen a growth in retail sales as a number of retailers have joined in.
There has also been a growth in sales in amongst our retailers and stalls in pavilions. We have seen great numbers of people flocking to Global Village to enjoy the fantastic range of shopping that is available, and also to experience special entertainment that we have running throughout DSF," says Ahmad Hussain bin Eissa, CEO of Global Village.
# Humble beginning
Starting with a few malls in 1996, there are over 70 malls and 6,000 retail outlets participating, offering discounts of up to 75 per cent on everything ranging from cars, haute couture fashion brands, electronics, gold, etc.
Retail spend is expected to increase to Dh204 billion in the coming seven years with the Expo 2020 set to give a strong boost to the sector. Contributing to this growth for certain will be DSF, which will celebrate its 'Silver Jubilee' in 2020 when the government expects over 25 million visitors.
The festival is based on three pillars - shopping, entertainment and winnings – and exhibits the success of public-private partnership model.
"Today, DSF has grown into the longest-running festival of its kind in the world and has tremendously boosted the profile of Dubai as a tourism destination offering extraordinary deals and promotions across a host of experiences – shopping, entertainment and travel," asserts Karim Beg, Visa's Head of Marketing for Mena.


# Best deals
Sheikh Majid Al Mulla, Emirates' Senior Vice President Commercial Operations Centre, Emirates, states it is great to see the DSF in full swing for its momentous 21st edition as Dubai is buzzing with bustling shopping malls and numerous associated events, activities and promotions.
"We know many of the visitors that we are bringing to Dubai during this period are coming to avail the best deals during DSF, and this further establishes Dubai as a centre of a broad range of attractive events," he adds.
Shoppers are spoilt for choices with numerous offers such as Visa, the global payments company, offering discounts of up to 80 per cent on electronics, luxury goods, cars and entertainment; Sharaf DG giving away two nights-three days hotel stay with breakfast for two persons and Paris Gallery offering shoppers spending Dh750 the chance to win gift vouchers worth Dh10,000 plus discount vouchers.
Matthew Green, the head of research and consultancy at CBRE, states DSF is now a brand in itself, recognised by people from across the Middle East region and international visitors beyond.
DSF will gain more prominence, drawing more tourists as the emirate will have more new attractions opening by 2020. Among the prime attractions will be the theme parks, Dubai Safari, Dubai Water Canal, Dubai Eye, world's largest Ferris wheel, and many more attractions.
# DSF: A case study
Suresh Kumaran, who is doing his PHD in India, is impressed and amazed by the success of the DSF, which is now in its 21 year.
"It's not a joke at all to run an event for such a long time. Generally, we see that interest of people tends to wane after some years. It's a case study for the world corporate to know to run a show (business) successfully," he asserts.
Taheer Khan from Pakistan is a frequent visitor to Dubai, but he ensures that he comes to the emirate during DSF with his family.
"Dubai is a shopping paradise and my family loves to come here during DSF. There is nothing more they look forward to every year. It is mostly clothes, jewellery and electronics that we buy from here as we get it cheaper and stand to win awards as well," he adds.
DSF 2016, runs until February 1, under the tagline "Unwrap The Exceptional" aimed at offering unique shopping experiences through over hundreds of events and activities that are being held across the city.
Follow Emirates 24|7 on Google News.