Banks need low-interest government deposits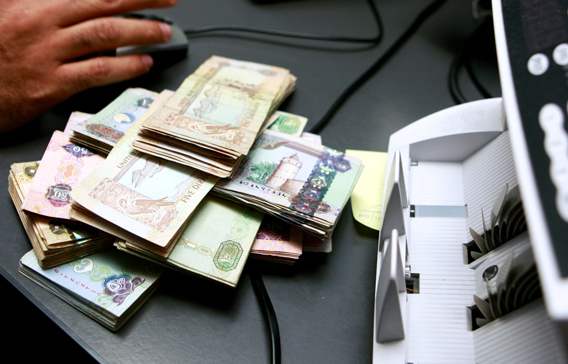 The UAE government should inject long term deposits into the domestic banking sector at low interest rates to allow them to end a tight credit policy they adopted after the 2008 global fiscal distress, a banker has said.
Resumption of normal lending by the country's 23 national banks and 28 foreign units is needed to spur growth in the UAE, said Nasr Abdin, CEO of the government-controlled Union National Bank (UNB).
Abdin admitted that UAE banks, which control the largest asset base in the Arab world, have been reluctant to extend credit while clients have lost appetite for borrowing because of soaring costs due to high deposits rates.
"If the government wants to stimulate the wheel of the economy, it needs to provide long and medium term deposits to banks at low interest rates," he told local reporters late Monday.
"Banks can invest these deposits mainly in funding projects and also in lending to individuals…there has been a stagnation in financing of projects and banks have remained conservative in their credit policy because of the high costs of deposits with them…this has made borrowing by clients costlier."
Like in other Gulf oil producers, UAE banks have sharply cut lending since the eruption of the 2008 crisis and regional default problems in 2009. Lower appetites by domestic companies and other clients because of the ensuing economic uncertainty have further stifled lending activity.
From as high as 30-35 per cent during the boom periods of 2007 and most of 2008, credit growth in the UAE plummeted to only 2.4 per cent in 2009 and nearly 1.3 per cent through 2010, according to the central bank.
In recent press comments, the speaker of the Federal National Council urged the government to inject more funds into the banking system and said high deposit rates demanded by public institutions are hindering bank lending activity.
Abdul Aziz Al Ghurair, also chief executive president of Mashreq Bank, said the government also needs to present more projects to spur business as part of an economic rescue plan similar to those in the west.
"First, the government should put more infrastructure projects into the market covering schools, ports, housing, health and education to stimulate the economy….second, it is extremely important that the issue of high interest rates is tackled…rates in the UAE are very high for borrowers and depositors…banks have raised rates on deposits to 4.-6 per cent while they are only 1-1.5 per cent in neighbouring countries and below one per cent in the US," he said.
"High rates have increased the costs of lending…the main reason for our inability to cut rates is that government and semi-government institutions are conducting auctions on their deposits, which is sparking competition for their deposits and consequently pushing up interest rates…so if you manage to get a government deposit for a four-per cent rate, then what will the lending rate be…."
Ghurair said there must be a government initiative to reduce those rates, adding that a two-per cent interest on a government deposit will cut lending rates and this will expand liquidity in the market.
"This will benefit all…I can say it frankly again that no one is benefiting from high rates…the central bank has tried to secretly interfere in cutting rates but could not…the central bank wants the inter-bank rates to be around 1.5 per cent but how cant his be when rates on deposits are five per cent," he said.
"This does not make sense…nominal intervention is something and actual intervention is something else…all government and semi-government establishments must act to put public interests above their own interests by accepting lower rates…I think what we need is a bold decision from the decision-makers."
Follow Emirates 24|7 on Google News.