Demand for cars to remain strong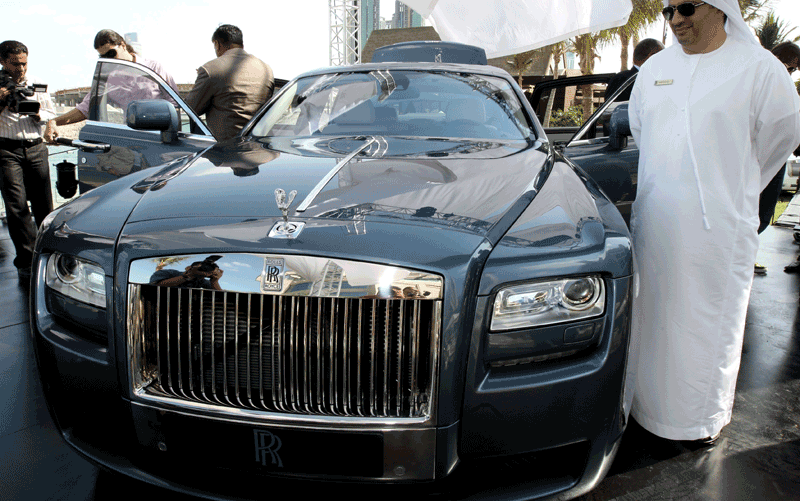 Demand for both luxury and mid-end cars will remain strong in the UAE - thanks to the development of world-class public transport infrastructure, said a study.
The automotive sector plays a vital role in promoting the UAE's competitiveness and makes the country stand out against competing economies in the Middle East, Dubai Chamber of Commerce & Industry study said.
Quoting a recent Business Monitor International report, the study highlighted the important drivers of growth for the automotive market, which include increasing populations, higher incomes, urbanization, energy efficiency and low-cost automobiles.
It recommended that car dealers be aware of developments in these areas and be ready to act as they occur overtime in order to meet increased demand.

Challenges
The UAE automotive market is an important part of the UAE wholesale, retail trade and repairing services sector. The automotive market caters to the growing demand for automobiles in Dubai and the UAE which is expected to grow as both the population and income of residents continues to increase.
Efficient transportation lowers the cost of doing business, creates synergies for various sectors and improves a country's competitiveness. Therefore, the UAE's automotive sector plays a vital role in making it stand out as compared to other economies in the Middle East and North Africa region and beyond. Although the UAE has developed world-class transport infrastructure it is expected that the demand for both luxury and volume automobile brands will remain strong as the need for having a car remains.

Growth drivers
Important drivers of growth for the automotive market include UAE demographics, urbanization, energy efficiency and low-cost automobiles. Each of these is a challenge but also a business opportunity and therefore a potential growth driver.
Population increase through natural growth and immigration will continue to create demand for cars, both luxury brands and budget vehicles. The preference for people to live and work in urban areas is also likely to lead to greater need for automobiles, including fuel efficient vehicles.
This leads to the third growth driver, in which the need for greater cars combined with urbanisation creates a need for greater fuel efficiency. Energy efficient vehicles emitting low amounts of carbon emission are therefore likely to be an important trend and growth driver in the future. The last important growth driver is likely to be cost efficiency.
While the demand for luxury cars is on the rise, so is the need for low cost vehicles required by budget consumers. While some existing car makers are also trying to introduce cheaper models, newer Asian manufacturers are also attempting to capture a part of this market worldwide. In the future we could see cheaper vehicles with newer brand names gain market share in the UAE.
Prospects
The UAE automotive market is expected to experience strong growth as the demand for automobiles and related products increases. Auto sales are expected to expand significantly registering a compound annual growth rate (CAGR) of about eight per cent between 2010 to 2014, while total re-exports are expected to increase at a CAGR of five per cent in the same period. This increase in auto sales is accompanied by increase in car ownership as a percentage of the population, which is expected to increase to a high of about 57 per cent by 2014.
Follow Emirates 24|7 on Google News.