Dubai airport passenger traffic rises 23.2% to 6.2 million in May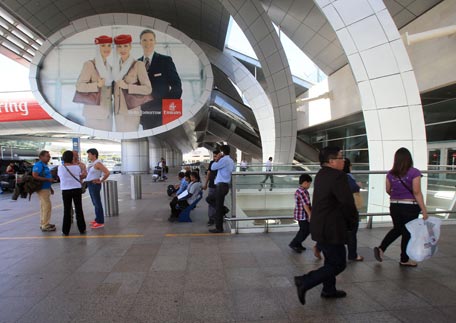 Passenger numbers at Dubai International continued their rapid ascent in May as the airport welcomed 6.2 million customers, up 23.2 per cent from the same period last year, according to the monthly traffic report issued by operator Dubai Airports today.
Passenger numbers rose 23.2 per cent to 6.267 million compared to the 5.086 million handled in May 2014 when the airport was reduced to one runway while a billion dollar refurbishment programme was conducted over an 80-day span.
"The summer peak is upon us and we are thrilled to have both of our upgraded runways in full operation," said Paul Griffiths, CEO of Dubai Airports.
"We expect record traffic levels and have boosted our staff levels, including our May I Help You personnel, to help passengers move as effortlessly as possible through the facility. We have also launched "Hang Out at DXB" which is a fun way to encourage passengers to arrive to the airport early to support on time operations and enjoy the wide array of dining, shopping and relaxation options we have on offer."
During the first five months of 2015, Dubai International received 32.384 million passengers, compared to 29.608 million passengers during the same period last year, an increase of 9.4 per cent.
Eastern Europe continued to be the fastest growing region in May up 85.4 per cent, driven mainly by Flydubai's new services to Slovakia, Bosnia, Bulgaria and Croatia, and Emirates service to Hungary and Transavia airline to Bulgaria. Other regions that registered high growth rates include the Indian subcontinent (33.8 per cent), GCC (31.1 per cent) and North America (28 per cent) – where Emirates has increased capacity on many destinations and launched a new route to Chicago.
In terms of total passenger numbers the Indian subcontinent outperformed the rest of the regions (+372,587 passengers), followed by the GCC (+248,919 passengers), and Western Europe (172,830).
The number of flights rose dramatically in May to 34,017, an increase of 48.8 per cent from 22,856 recorded during May 2014 due to the effect of the runway closure. Year to date flight movements reached 167,510, up 12.6 per cent from 148,784 aircraft movements recorded during the same period last year.
Dubai International freight volumes rose 15.5 per cent in May to 216,712 tonnes compared to 187,688 tonnes in May 2014 as volumes were impacted by the runway programme. During the first five months of 2015 Dubai International has handled cargo totalled 1,015,482 tonnes of freight down 1.0 per cent from 1,025,526 tonnes handled during the same period last year.
Follow Emirates 24|7 on Google News.