Dubai seen growing 4% in 2011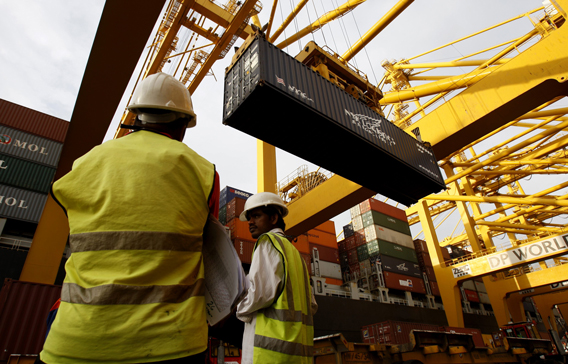 Dubai's economy should grow by up to four per cent this year helped by a recovery of trade and logistics sectors, a government economist said on Wednesday.
"Given the vibrant recovery of trade and logistics sectors, growth will accelerate in 2011," Mohammad Lahouel, chief economist at Dubai's Department of Economic Development told a conference on the Gulf emirate's economic outlook.
"A conservative estimate would put growth in 2011 between three and four per cent, but closer to four per cent," he said.
The economic output of Dubai is estimated to have grown by 2.2 per cent last year, after a 2.4 per cent contraction in 2009, its statistics centre said this month.
The International Monetary Fund predicted 0.5 per cent real gross domestic product growth in 2010.
FDI hub status bolstered
Dubai's reputation as an international investment destination has been bolstered by the political upheaval currently sweeping the Middle East, government officials said Wednesday.
"Interest in Dubai as a safe hub for investments has increased during the past two to three years," Sami Al Qamzi, Director-General of Dubai's Department of Economic Development told Zawya Dow Jones on the sidelines of a conference in Dubai. "This interest has increased lately, especially with Dubai offering sound infrastructure and stability for businesses," he added.
Dubai "has been working extensively for the past 15 years to enhance its infrastructure and setting a sound business environment, and that has reflected positively in terms of it becoming an attraction to investors," said Al Qamzi.
Political unrest in the Middle East, which has seen regimes topple in Egypt and Tunisia, has delivered a body-blow to crucial industries like tourism and financial services. Dubai's economy has been the main beneficiary of the regional upheaval however, as it is viewed by many as a relative safe haven for businesses operating in the Gulf.
Abdullah Al Awar, the chief executive of the Dubai International Financial Center, or DIFC, echoed Al Qamzi's optimism about Dubai's ability to benefit from the recent spate of unrest elsewhere in the region.
"We're seeing lots of interest in the DIFC. We've always been supportive to institutions interested in having a regional hub. Dubai's take is always a global stand with a global infrastructure and regulatory framework," Al Awar told Zawya Dow Jones.
Marios Maratheftis, head of research for the Middle East and North Africa at Standard Chartered Bank, said Dubai's appeal in times of turmoil shouldn't come as surprise.
The spreading regional unrest has provided an additional boost to tourist arrivals in Dubai, and left hotels overflowing and resorts struggling to cope with demand.
"During times of tension and elevated risk, it [Dubai] benefits from the flight to quality. This applies to several sectors in Dubai's economy including retail, hospitality and finance," Maratheftis told Zawya Dow Jones.
Follow Emirates 24|7 on Google News.