Ducab puts expansion on hold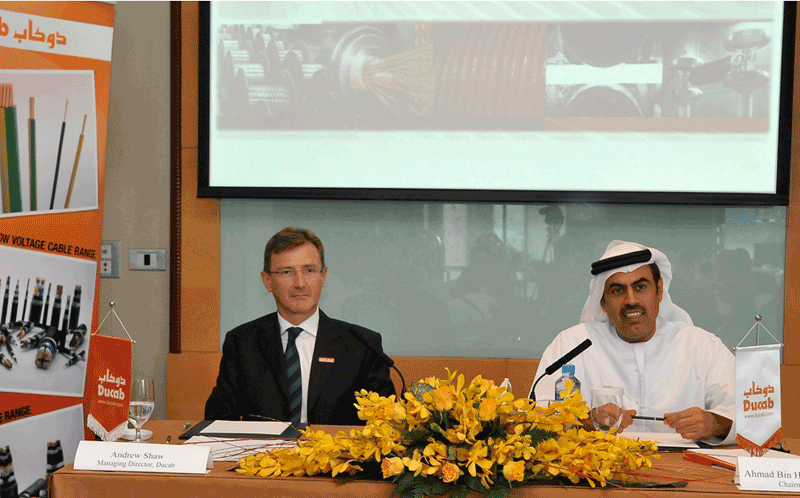 Ducab, a Dubai-based manufacturer of high-quality power cables, has put its Mena expansion and acquisition plan on hold due to the unrest in the region, its chairman said in Dubai on Wednesday.
Speaking at the press conference to announce the company's 2010 results, Ahmad Al Shaikh said the company was looking at acquisitions in the region but put on hold due to "regional scenarios".
The company was looking at joint ventures and acquisition in Saudi Arabia but still not yet decided due to certain issues, Al Shaikh said, adding that there are some issues to be sorted out such as demand, ownership percentage and regulatory hurdles. "We don't want to go as minority shareholder but a majority stakeholder."
The Dubai-based cable manufacturer was looking at projects in more than one country in the region, he added.
The company's sales last year jumped 51 per cent to Dh3.6 billion compared to Dh2.4 billion in the previous year led by strong demand for cables and its expansion into new markets.
Cable and wire sales totalled Dh2.2bn whilst the exports of copper rod accounted for the remaining Dh1.4bn. Most of the sales growth was achieved in utilities (22 per cent) and energy (143 per cent) sectors.
The company's – jointly owned by the Government of Dubai and Abu Dhabi – turnover in 2009 dropped 27 per cent to Dh2.4bn as against Dh3.3bn in the previous year.
"2010 was a very challenging period worldwide for an industry such as ours, where real estate and construction are major drivers of demand, and the Middle East market was no exception. Fortunately, infrastructure projects and energy investment throughout the GCC have been counter-cyclical in this downturn and have provided some compensation for the construction slowdown. Ducab managed to grow despite the market condition and increased competition in the region," said Ahmad Al Shaikh.
Cost and efficiency improvement contributed too with savings of Dh17m achieved through operational efficiencies and cost optimisation initiatives in 2010.
Its shareholders equity increased by Dh100 million and distributed Dh50 million dividend among shareholders.The company, according to Al Shaikh, paid back Dh282 million loan in 2010 and this year. It repaid Dh100 million loan in the first quarter this year ahead of its maturity.

Production capacity
The company's production increased by 47 per cent with full realisation of copper rod capacity. It produced 67,223 tonnes of cables and 283,000 tonnes of copper rod.
Al Shaikh projected a further increase in volumes of about 15 per cent in 2011 despite the global economic downturn and a rise in copper prices – which had touched $10,000 per tonne last year.
The firm introduced eight new products in last year, holding 35 to 50 per cent market share depending on the cable segment, he added.
Commenting on Ducab's Dh500 High Voltage project, Al Shaikh said it's nearing completion.
Follow Emirates 24|7 on Google News.