Eid rush: Emirates says over 300k to travel out of UAE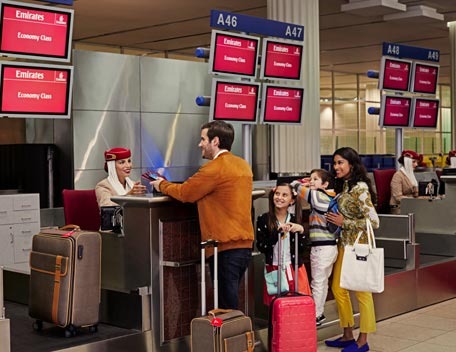 Emirates airline is anticipating a busy travel period during Eid Al Adha as more than 300,000 passengers to travel out of the UAE in September and the upcoming Eid for short holidays.
Over 76,000 customers will travel on September 18 with Emirates, according to the airline's latest booking figures.
The overall figures represent an increase of almost 65 per cent over last year.
The busiest day for the airline will be on Friday September 18, although high passenger traffic is expected starting from 17 to 28 September. This year, the top destinations that travellers are heading to are Dhaka, Mumbai, London, Karachi and Cairo. In addition, short haul travel will constitute around 52% of bookings while long haul travel is expected at 48%.
Emirates will be accommodating for over 20,000 Hajj travellers during the pilgrimage period as well.
On the inbound front and throughout September and the Eid Al Adha period, Emirates is expecting over 190,000 passengers to arrive into Dubai from destinations in the UK, India, Germany, Australia, US and South Africa.
Sheikh Majid Al Mualla, Divisional Senior Vice President Commercial Operations Centre, said: "We continue to see travellers coming back in greater numbers during holiday periods, which is a testament to the outstanding customer experience Emirates provides so we are well-positioned to continue building on that success. We believe that all parts of the customer journey are important to passengers. Whether it's their airport experience from checking in, our generous baggage allowance, warm and friendly crew, internationally inspired cuisine, on board connectivity and our ice entertainment system, passengers enjoy the greatest value possible from their experience with us."
For families, Emirates has designated special areas for families consisting of 10 economy check-in counters in Terminal 3, Area 2, that are designed with their needs in mind. In addition, special stroller services both upon departure and arrival enable parents access to prams heading to their gate and immediately upon leaving the aircraft. Families also enjoy priority boarding to ensure a seamless experience all the way to departure. In the Emirates Dubai lounges, special children's play and entertainment areas with arcade quality games ensure that they never get bored.
Waitlisted economy passenger check in Area 6 is now serviced by a dedicated Costa coffee kiosk as well.
As with any busy travel period, Emirates is reminding customers to arrive at the airport at least 3 hours before flight departure, and plan extra time to get to the airport. Check-in is available up to 24 hours before flight departures out of Dubai.
Customers are also urged to check-in online, use the convenient Self Service Kiosks or baggage drop facilities to expedite their airport experience. Those checking in online are required to check in their luggage no later than 90 minutes prior to departure. Customers holding an e-boarding pass and travelling with carry-on bags only, can proceed directly to passport control and security clearance.
Customers who check-in less than 60 minutes to their scheduled flight departure will not be accepted. These time checks will ensure the minimization of delays and missed connections. Transit passengers from flights arriving late into Dubai will be escorted by Emirates' airport staff to ensure they make their onward connections.
Customers travelling to the United States, Canada and the UK are reminded to charge their electronic devices before getting to the airport, as they will be required to switch on these devices at the relevant boarding gates where screenings will take place, or risk being denied access to fly.
Key time checks for Emirates passengers:
• Check in no later than 90 minutes prior to departure, regardless of class of travel
• Customers who have checked in online are also required to check in their luggage 90 minutes before flight departure
• Customers are advised to go through security checks no later than 60 minutes before flight departure
• Boarding on all flights begins 45 minutes prior to departure, and gates in all concourses close 20 minutes prior to departure
Follow Emirates 24|7 on Google News.