Gulf markets soft after oil price slips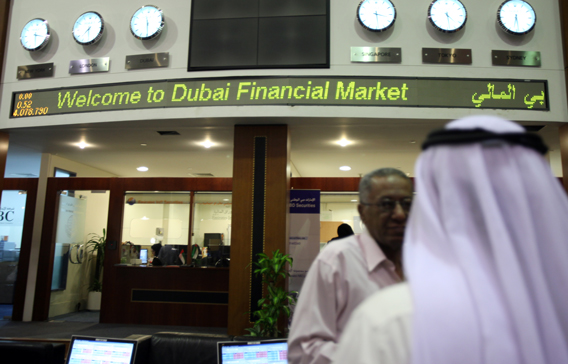 Most Gulf stock markets fell on Sunday after Brent crude oil closed down nearly a dollar a barrel at $56.42 on Friday and many investors remained absent from the markets for extended holiday breaks.

Although markets have become less prone to panic sell-offs since Saudi Arabia announced late last month a 2015 state budget which maintains spending at a high level, many buyers may choose to stay on the sidelines until oil prices find a floor.

Saudi Arabia's main equities index edged down 0.6 per cent with most sectors in the red. The kingdom's market is heavily weighted towards petrochemical producers, whose profits may be hurt if oil's weakness is prolonged.

However, shares in Advanced Petrochemical Co bucked the trend and rose 1.2 per cent after the firm said its 2014 net profit rose 34.9 per cent on higher sales volumes and prices as well as cheaper feedstock.

The company was the first one in Saudi Arabia and the Gulf to report full-year results. More positive results could buoy regional markets in coming weeks.

"Despite falling oil prices, the outlook for Tadawul (Saudi Arabia's bourse) is still positive as corporate earnings remain healthy," National Commercial Bank said in a note on Friday, adding that December sell-offs had made valuations attractive.

UAE

Dubai's index dropped 2.3 per cent. Emaar Properties fell 1.8 per cent, while builder Arabtec Holding, the most traded stock, tumbled 3.8 per cent.

Trading volume more than halved from the previous session, indicating that many investors were either absent or unwilling to open new positions.

Abu Dhabi's bourse fell 1.7 per cent as Abu Dhabi Commercial Bank and Aldar Properties tumbled 5.4 and 6.4 per cent respectively.

Dana Gas intially outperformed after the company said it had received $60 million from Egypt's government as part of overdue receivables totalling $212 million. But the stock ultimately closed 2.0 per cent lower.

Qatar's benchmark edged down 0.5 per cent while Kuwait edged up 0.2 per cent. Trading volumes in Abu Dhabi, Qatar and Kuwait also fell sharply. Bourses in Oman and Bahrain were closed for Prophet Mohammad's birthday.

Outside the Gulf, Egypt's index added 0.2 per cent on the back of Commercial International Bank, which rose 1.7 per cent. The stock has gained 5.3 per cent since December 23, when Fitch upgraded the bank's credit rating to 'B' from 'B-' following an Egyptian sovereign rating upgrade.

Sunday's highlights

Dubai
The index dropped 2.3 per cent to 3,689 points.

Abu Dhabi
The index fell 1.7 per cent to 4,451 points.

Saudi Arabia
The index edged down 0.6 per cent to 8,357 points.

Qatar
The index slipped 0.5 per cent to 12,229 points.

Egypt
The index edged up 0.2 per cent to 8,943 points.

Kuwait
The index added 0.2 per cent to 6,547 points.


Follow Emirates 24|7 on Google News.