Latest Arab billionaires list is out; Wealth of UAE's rich soars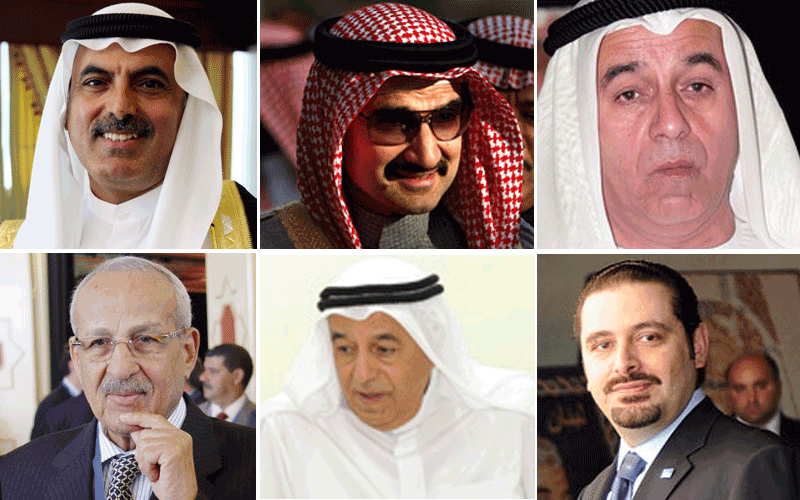 Wealth of 36 Arab billionaires increased by $3.7 billion (Dh13.58 billion) to $121.3 billion (Dh445 billion) last year as compared to $117.6 billion in the previous year with Saudi prince Alwaleed Bin Talal Alsaud retaining the top position with a fortune of $18 billion despite drop in wealth.
After prince Alwaleed, Lebanese-Brazilian billionaire Joseph Safra is second richest in the list of billionaires with a fortune of $13.8 billion to his name.
According to Forbes Middle East's Arab billionaires ranking, the wealth of UAE's four billionaires increased from $6.9 billion to $7.6 billion. Out of four UAE billionaires, three - Abdul Aziz Al Ghurair, Saif Al Ghurair and Abdulla Al Futtaim, saw their fortunes growing but one - Majid Al Futtaim - recorded fall. Abdul Aziz Al Ghurair, chief of Mashreq bank, wealth increased from $2.7bn to $2.9bn; Saif Al Ghurair's wealth grew from $1.7bn to $2bn; and Abdulla Al Futtaim's net wealth rose to $1.6bn from $1.3bn. While Majid Al Futtaim's net worth dropped from $1.2bn to $1.1bn, Forbes statistics showed.
Click here to read the latest ranking of billionaires
Saudi Arabia and Lebanon led the way on this ranking with eight billionaires each. Despite recent political turmoil, Egypt was runner up with seven billionaires, followed by the stable UAE with a total of four. However, this year's major headline was newcomer to the billionaires club, Morocco, which entered the ranking with three billionaires: Miloud Chaabi, Othman Benjelloun and Anas Sefrioui.
Standing out amongst the success stories featured in the Forbes Middle East billionaires issue is Sulaiman Al-Rajhi & family, ranked in 5th place with a family net worth of $5.9 billion. The Saudi banking tycoon-turned-philanthropist made headlines last year with an unprecedented decision to relinquish much of his fortune; distributing his wealth amongst family and donating a significant proportion to charity. Also standing out from the crowd is Moroccan frontrunner Miloud Chaabi, ranked 10th with a fortune of $2.9 billion. Following a religious education, this inspirational man started working at the age of 15 as a shepherd, then as a farmer, before moving into the construction industry. Today, he leads the Moroccan billionaires as head of Ynna Holding; a company specialized in real estate development, hotels, retail and industry.
Forbes Middle East's editor-in-chief Khuloud Al-Omian said: "Inheritance is becoming the fastest and easiest way to enter the billionaires club. This begs the question: can the new generation in the Arab world advance their inherited companies or family businesses? Statistically speaking, the Arab world's wealthiest young people are still in the beginning stages but we hope that they can take inspiration from the brilliant minds that preceded them and the region's key figures who still dominate the scene".
Follow Emirates 24|7 on Google News.