UAE fiscal position is comfortable: bank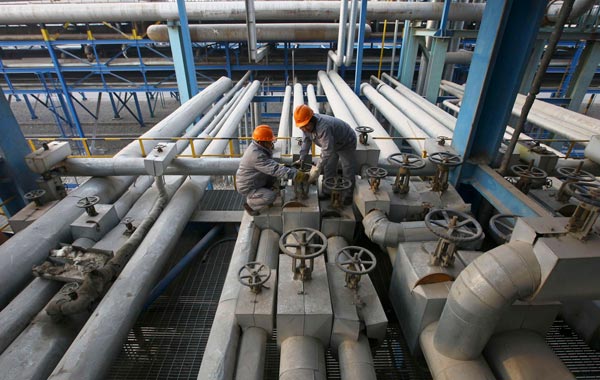 Strong oil prices will widen the UAE's fiscal surplus to nearly 12 per cent of GDP in 2011 after narrowing in the previous years because of relatively lower crude prices and massive public spending, a Kuwaiti bank has said.
National Bank of Kuwait (NBK) also put growth in the economy, the second largest in the Arab region after the Saudi economy, at around two per cent in 2010 and projected it to rebound by 3.6 per cent this year.
Inflation, which tumbled below one per cent to its lowest level in nearly 10 years, is expected to surge by around three per cent this year, the Bank said.
"The fiscal position of the UAE remains fairly comfortable. At face value, 2009 and 2010 may have seen the UAE record its first budget deficits since 2003, at eight and one per cent of GDP, respectively," NBK said in a study.
"But these figures exclude both the income received on the government's vast overseas assets and profits from the government-owned ADNOC…including these, the budget may not have seen deficits at all."
The report said it expected higher oil prices, which have shot above $100 a barrel due to turmoil in the region, would ally with "relatively unchanged spending" to generate a budget surplus of around 12 per cent of GDP this year, "at least when off-balance sheet items are included."
It said the current account position, which has been consistently strong over the past years, should see a similar sized surplus.
It gave no figures on the UAE budget while the country has not yet published recent data on the fiscal position over the past two years.
But figures by the Abu Dhabi-based Arab Monetary Fund (AMF), citing UAE government data, showed the country boosted public expenditure to its highest ever level of nearly Dh289 billion in 2009 despite a sharp decline in oil revenue because of lower prices and production.
The 2009 expenditure was way above the 2008 spending of Dh254 billion although oil prices in 2008 were nearly 58 per cent higher than in 2009, said the AMF, a key Arab League establishment.
In a report on the UAE's consolidated finance account (CFA), which comprises the federal budget and spending by each emirate, the AMF cited official UAE government figures as showing revenue in 2009 plunged to around Dh292.6 billion from a record high of Dh450.3 billion in 2008.
It said the decline was a result of a sharp fall in hydrocarbon export earnings to nearly Dh217.5 billion last year from a peak of Dh362.1 billion in 2008.
Official CFA data in the past four years showed the UAE has recorded massive surpluses. The surplus stood at around Dh75 billion and Dh69 billion in 2006 and 2007 respectively and was achieved despite a steady rise in actual spending.
While there are no figures for 2010, analysts believe actual spending was higher than in 2009 on the back of stronger oil prices and a recovery in the country's overseas assets, which were hit by the 2008 global fiscal distress.
NBK said it expected the UAE economy to remain under the press of weak real estate, construction and financial sectors this year despite higher oil prices.
"This will limit any momentum gained from stronger growth in the world economy in areas such as trade, tourism and business services."
It said growth is likely to remain somewhat below trend, at around 3.6 per cent in 2011 after rising by nearly two per cent in 2010.
The report expected growth to be led by the hydrocarbon sector on the grounds the UAE will increase its crude production this year.
"We assume that real hydrocarbon sector output (excluding refining and gas processing) rises by five per cent this year following growth of two per cent in 2010. The sector accounts for around one-third of real GDP at 2000 prices."
It projected growth in the non-oil sector at around three per cent in 2011 compared with an estimated two per cent in 2010. The level is far below the average 13 per cent annual growth recorded during 2001-2008.
"Consumer price inflation stood at an average of 0.9 per cent in 2010 – its lowest for at least a decade. It did, however, pick-up modestly through the year as a result of rising food prices. We expect inflation to average nearly three per cent in 2011. A further weakening of the US dollar – to which the dirham is pegged – provides one risk to this outlook," NBK said.
Follow Emirates 24|7 on Google News.