UAE job-hoppers undeterred by economic slowdown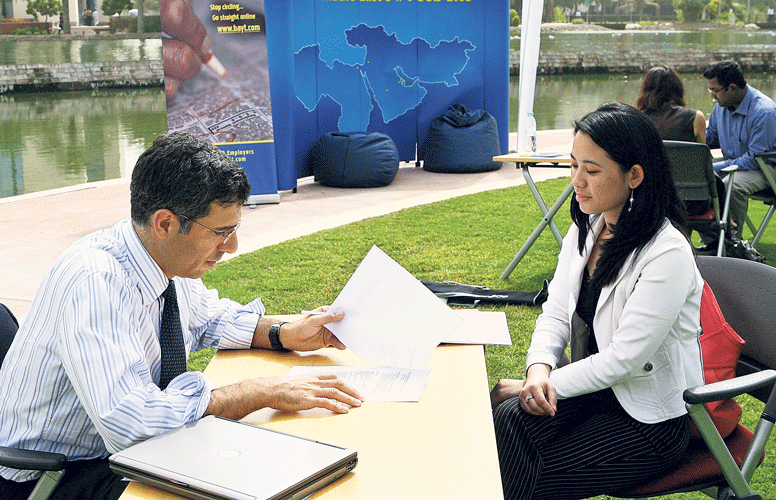 If you thought the global economic slowdown, which has resulted in unprecedented job-losses around the world, would have forced employees in the UAE to stick to their current job with all their might, think again.
For, experts maintain that the incidence of UAE employees quitting their current jobs for greener pastures within the country has picked up compared to last year, indicating higher employee confidence and mobility.
"The number of employees leaving their employers has not gone down [due to the slowdown]," confirms Panos Manolopoulos, Vice Chairman (Regions), Managing Partner Middle East, Stanton Chase International, a Dubai-based recruitment firm.
"On the contrary, compared to last year, we've seen an increase in the mobility of employees," he insists.
Executive search managers say the rise in mobility is due to a combination of prevailing uncertainties and an economic revival, which is leading to a dynamic job market once again.
"Employees in secure positions and in stable companies are tending to stay on. On the other hand, employees who are shifting jobs are those who have a feeling of instability or who have sensed a bit of financial problems in their current companies or employment," says Ian Giulianotti, Associate Director, Recruitment and Training, Nadia, UAE.
Manolopoulos agrees: "Employee mobility has risen because there's a wave of uncertainties. A lot of employees are seeing light at the end of the tunnel and are keeping their eyes open for new opportunities."
Giulianotti points out that it is those working in small to medium sized enterprises or companies facing financial trouble that are making the switch or looking to make one as opposed to employees in multinationals that are doing good business and are paying on time.
However, as Manolopoulos, puts it: "There are more opportunities available now in the market than one year back, as companies are moving ahead, and opening up new ventures."
"Overall, the job market in the UAE looks very steady at the moment after a period of turbulence one year ago, and there are more jobs available now as well as more talent to choose from," echoes Giulianotti.
Consultants also believe that most employees are still looking for employment within the Gulf and the wider Middle East region rather than going back to their home countries.
"Many executives are interested in moving from one company to the other, but within the GCC and the Middle East region. Expatriates especially don't want to leave the region and go back home," Manolopoulos said.
HOW TO BECOME A SMART JOB HOPPER
'Job Hopper' is a person who changes his job frequently and was once considered a no-no among professionals, who tended to stick on with an employer for decades. However, in today's fast-paced and dynamic work environment, it is considered wise to hop different jobs in order to make good money and get a job suitable to an individual's own terms.
"Love your job much more than your company because you will never know when your company will stop loving you," is the mantra followed by today's professionals.
Emirates 24/7 provides a step-by-step guide to job-hopping:
Step1. Prepare. Always keep an updated résumé handy to market the qualifications on job search websites and corporate career websites.
Step 2. Negotiate. If you have the qualifications for the position you're applying for, and you have stayed in your former company for 2 to 3 years, it will be possible for you to negotiate a good salary and benefits.
Step 3. Time it. Taking a cue from the simple laws of demand and supply, the best time to consider job-hopping is during an economic boom. This is the time when companies have a target to hire employees and they can afford expected salaried and bonuses. It is equally important to work hard during the economic slowdown and stay alert about opportunities elsewhere.
Step 4. Don't over do it. Remember, it is not necessary to change jobs frequently for the heck of it. If you like your job, company and benefits, do not move just because there is a new employer in town or because you're getting a little more in salary. In any case, however, the key thing is to be always aware of market rate and economic conditions.
Follow Emirates 24|7 on Google News.