UAE to grow 3.3% in 2011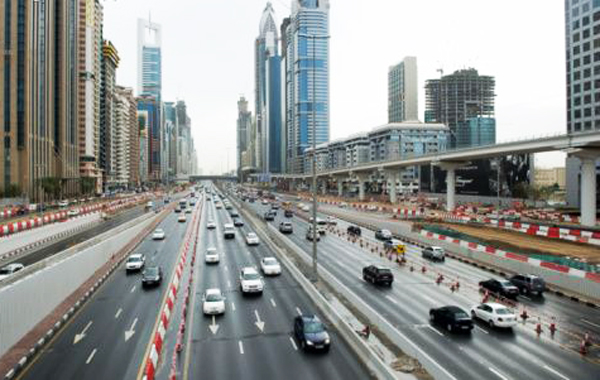 The UAE economy grew by around 1.5 per cent in 2010 and is projected to rebound sharply by nearly 3.3 per cent in 2011 because of higher hydrocarbon earnings and improved trade and tourism in Dubai, a key Saudi bank has said.
Although the country's stock markets have come under pressure by unrest sweeping through the Arab region, turbulence is not expected to spread to the UAE given its massive wealth and low inflation rates, the Saudi American Bank Group (Samba) said in its latest regional economic bulletin.
"Overall, we do not feel that developments in Mena will materially affect the UAE economy, which looks set to continue its recovery. In fact the spike in oil prices resulting from the political turmoil will help generate additional revenues which can be used to support growth," it said.
"This we project will rise to around 3.3 per cent this year..... we also do not expect any significant political pressure, reflecting the UAE's more benign economic circumstance—including a relatively wealthy national population and contained inflationary pressures."
Citing official data, SAMBA said the UAE economy, the largest Arab economy after Saudi Arabia, underwent a modest recovery in 2010 with overall real GDP growth estimated at about1.5 percent.
It said growth was primarily driven by a three per cent increase in combined crude oil and NGL (natural gas liquids) production, sustained public spending and a modest pickup in private sector activity.
"The recovery in global trade during the year in particular helped the UAE, and especially Dubai's, trade, tourism and logistics industries perform better than initially expected," the study said.
"Tourist arrivals in both Dubai and Abu Dhabi are estimated to have risen between 10-18 per cent, aircraft traffic in the UAE as a whole rose 11 per cent according to the civil aviation authority, while trade and port activities grew between 10-25 percent."
Although the global economy is expected to slow only modestly in 2011, these sectors are expected to continue to perform well, SAMBA said.
"Headwinds will still come from the weak real estate sector, debt concerns and relatively tight domestic credit conditions. But these should be countered by further growth in the still dominant hydrocarbons sector (37 per cent of GDP), and strong oil revenues which will boost external assets and confidence."
SAMBA said it expected Abu Dhabi, the main oil producing emirate in the UAE, to push ahead with its infrastructure programme, providing support to the construction sector in the UAE.
Turning to finance, SAMBA said it expected Dubai, the region's commercial hub, to turn to the capital markets again to finance this year's $one billion fiscal deficit. "This should be manageable, although costs are likely to be high and markets will be keeping an eye on Dubai World's debt," it said.
"In addition, the federal government may also look to issue bonds (either local or international) in 2011 to cover its projected budget deficit rather than drawing on reserves. This would be the first ever debt issuance by the federal government and follows the passing by the FNC of a new public debt law."
The report also expected general spending in the UAE to be curbed this year within fiscal restructuring and expenditure rationalization measures.
Although proper analysis is hampered by the absence of detailed information and any estimates for 2010 outturns, the combined cuts amount to around $1.2 billion over last year's budget, the report said.
It noted that Dubai's draft 2011 budget aims to narrow the deficit to $one billion, equivalent to around 1.1 per cent of GDP, from an initially budgeted $1.6 billion in 2010. Expenditure is projected to decline by close to five per cent to $9.2 billion, although infrastructure will continue to be emphasized, it said.
Meanwhile the UAE's Federal National Council has approved a 2011 budget which projects a deficit for the first time in six years of around $800 million, based on significantly lower revenues of $10.4 billion and expenditures of $11.2 billion. Expenditures are down around six percent over the 2010 budget while revenues are lower by about 12 per cent, principally reflecting a scaling back of Abu Dhabi's contribution by nearly 19 per cent.
"No official details of Abu Dhabi's own budget are available, but it is thought that the emirate intends to balance its budget this year after large deficits in 2009 and 2010 when it provided exceptional support to its own commercial enterprises and banks as well to the other emirates, especially Dubai."
Follow Emirates 24|7 on Google News.