Flydubai carried 3.4m passengers since launch of its operations in Kuwait in 2010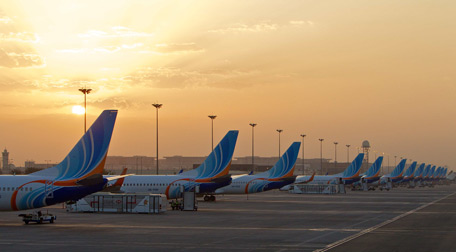 The national carrier flydubai celebrates the seventh anniversary of its operations in the Kuwaiti market, which saw travellers reaching 3.4 million on December 2016.
Since its launch to and from Kuwait, one of the primary markets for the carrier in the region, flydubai has been able to develop its operations in a qualitative manner, as it provides flexible services suitable for the Kuwaiti traveler. From two flights a day, the number of trips in the holiday seasons increased to 12.
The carrier has allocated a building for passengers, the Sheikh Saad Al Abdullah Building, which gave additional value to passengers' experience on board because of the flexible facilities and speed in the travel procedures.
The airline has seen a high turnout at the Kuwaiti market, which reached as many as 3.4 million passengers on December 16. flydubai flights on the Kuwait line have been growing at least 10 percent annually since launching of operations in this vital market.
According to the airline's statistics on the most sought after destinations of its network by the Kuwaiti traveler last year were Kathmandu, Colombo, Tbilisi and Sarajevo, which were the first choices of travel through Dubai.
Commenting on the seventh anniversary of the airline's launch in the Kuwaiti market, Ghaith Al Ghaith, CEO of flydubai, said, "The airline regards Kuwait as one of its most important markets in the region due to the historic fraternal ties between Kuwait and the UAE. Accordingly, the carrier has been keen to enhance its operations in this pivotal market through the operation of 12 daily flights and provision of exclusive services."
"The flydubai flights between Kuwait and Dubai are witnessing rapid growth that will boost the launch of the business class on its flights," Sudhir Sreedharan, Senior Vice President - Commercial Operations (Indian Sub-Cont/GCC/Africa).
Follow Emirates 24|7 on Google News.