'Indian IT companies will flock to Hamriya Free Zone'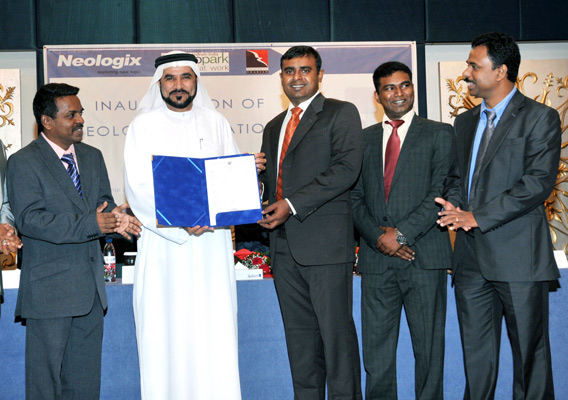 More Indian IT companies are flocking to the UAE to capture a share of the mobile applications and related IT services currently booming in the region.
Speaking to Emirates 24/7, Dr Rasheed Al Leem, director general of Sharjah Sea Port, Customs and Hamriya Free Zone, said he expects more Indian IT companies to flock to the UAE as a follow up of a memorandum of understanding signed between the Hamriya Free Zone and Technopark, Thiruvananthapuram, Kerala. "Currently, there are 5,500 companies from 137 countries operating in the Hamriya Free Zone and 1,448 companies are from India."

Neologix Software Solutions of India has launched their Middle East operations, the first offspring of the Hamriya Free Zone-Technopark partnership. A memorandum of understanding between the two entities was signed recently for IT cooperation. "India is the second biggest investment destination for the UAE and as per recent announcements, the UAE will be investing several billion dirhams in India."
He was speaking at a function organised to hand over the trade licence to Neologix, the first India-based IT company to start operations here. "Mobile applications have a big future here as everybody is using the mobile phone for various purposes including making online purchases."

Dubai's Tecom is currently setting up the Smart City project in Kochi, Kerala. Kerala IT has an exhibition hall at the Gitex 2011 in which twenty companies from Technopark, Thiruvananthapuram, are participating. Technopark, promoted by the government of Kerala, is India's first technology park and also one of the three largest IT parks in the country.

Neologix has started the UAE operations to capture a share of the growing mobile applications market. The company has worked for leading multinationals like Yahoo and American Online and it is here with its mobile applications in Androld, Iphone, Ipod and other touch platforms used by some multinational enterprises. "The IT sector in the Middle East is going through massive transformation, with professionals seeking fast, effective and hassle-free technologies while they are on the move," said Jenu Joseph, managing director and chief architect of Neologix, a company that has worked for leading government bodies, educational institutions and multinational companies from Japan, US and the UK. It has three development centres in India and the fourth centre in the Hamriya Free Zone will initially function as a business development and consultancy division, he added.

Mervin Alexander, Technopark's Chief Executive Officer, said the recently announced Indian IT policy estimates Indian software exports to touch $200 billion by 2020 and all the future growth will happen in Tier 2 and Tier 3 cities as Tier 1 cities are already saturated. 'Eleven per cent of engineers in India come from Kerala. With many new engineering colleges starting operation there, more IT manpower will be available. Big companies here can set up their back-end operations in the Kerala IT parks. He said many global IT and mobile companies are setting up shop in Kerala IT parks. Non-resident Indians can also set up businesses in these technoparks or cyberparks. "They can take land and put up their own buildings and lease it to IT companies. It would require a minimum investment of Indian rupees 1 billion."
The Kerala IT team is represented at the Gitex by a three-member delegation comprising Infopark CEO Gigo Joseph, Technopark CEO Mervin Alexander, and Gireesh Babu, managing director of Kerala State IT Infrastructure Limited (KSITIL).

Recession is an ideal time for companies to use IT to cut costs and improve efficiency. "In 1990, Indian IT exports was only $1 billion. By 2000, it had grown to $9 billion and during various recessionary periods from 2000 onwards, it grew to $75 billion. We started with an initial parking facility for 5,000 people. Now there are more than 30,000 people working there," said Joseph. "The sharp depreciation of the Indian rupee against the dollar is adding another cheer factor for IT companies. They are earning extra revenue because of a more favourable exchange rate."

Picture caption: Hamriya Free Zone chairman handing over the trade licence to Neologix, the first Indian IT company to start operations in the free zone.
Follow Emirates 24|7 on Google News.