iWatch-killer: World's first Bluetooth touchscreen watch controls smartphones and apps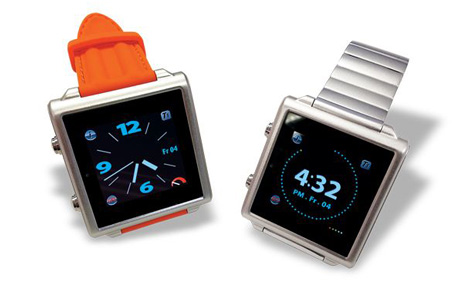 Hong Kong-headquartered Dayton Industrial today unveiled a touchscreen watch that can control any smartphone and installed apps from a user's wrist, using Bluetooth low energy wireless technology.
With this watch, anyone who owns a smartphone with the latest version 4.0 of Bluetooth will be able to replicate their smartphone's screen and control it with this interface on their wrist.
The watch features a high resolution (240 x 240 pixel) TFT (thin film transistor) full colour active matrix touchscreen LCD display and Bluetooth low energy wireless connectivity.
Dayton Industrial says the watch is 'production-ready' and features a fully customisable proprietary operating system, powered by ARM9-based embedded CPU core with AVDSP video processing engine and 2D graphics processor that will allow OEMs and app developers to display almost any type of information they wish on the watch's display, and offer wrist-based control of almost any smartphone or app feature.
This includes features such as caller ID for incoming voice calls, missed call alerts (name and photo), SMS messaging, calendar and appointment reminders, and music control, through to social media (e.g. Facebook, Twitter, Whatsapp, and QQ) updates, local weather information, financial market updates, sports, fitness and wellness monitoring, and advanced security, proximity, and home automation features (e.g. smart utilities).
"There is no watch form factor control and display device on the market today that includes a high resolution colour touchscreen and Bluetooth low energy wireless connectivity to smartphones and other Bluetooth v4.0 enabled devices," says Tony Chung, a Senior Marketing Executive at Dayton.
"And we expect the pricing of this device could allow smartphone manufacturers to successfully bundle it with specific models and ranges to support increased sales."
The technology is delivered by Nordic Semiconductor's, and enables the Dayton PCDD to deliver up to two days (43 hours) of operating life from a built-in 3.7V lithium-polymer USB or mains rechargeable battery, and all within a slim (1.35cm-thick) and compact (4.8 x 4.4cm) anodized aluminium watch form-factor casing.
"Until only a few years ago, the digital watch market looked to be in terminal decline," adds Geir Langeland, Nordic Semiconductor's Director of Sales & Marketing. "But Bluetooth low energy got a lot of watch manufacturers really excited and this early example from Dayton Industrial of what a Bluetooth Smart watch-based control and input device could be capable of delivering is exactly the reason why. I wish Dayton every success with this product platform and commend them once again for being so fast to market with a production solution that employs class-leading, award-winning ULP wireless technology from Nordic Semiconductor."
Called a Portable Control Display Device (PCDD), this product comes featured with auto-activation 3D motion sensing, an auto-dimming ambient light sensor, 3m smartphone range, and support for up to 8 ANT+ wireless peripherals.
Dayton is an OEM/ODM (Original Equipment/Design Manufacturer) of wireless monitors and associated products (such as watches and bike computers) for a number of popular global sports and fitness consumer brands.
ALSO READ:

Apple's iWatch mock designs revealed: Time ticking for 2013 launch



Which handy candy? Galaxy S4 vs. iPhone 5 vs. HTC One vs. Xperia Z vs. BlackBerry Z10
Follow Emirates 24|7 on Google News.