Paris airshow opens with $20bn in orders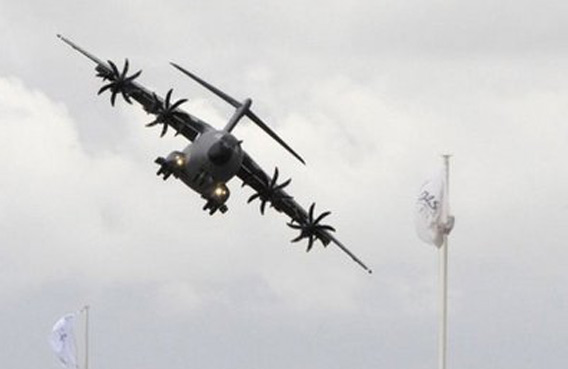 The world's top aerospace giants announced a $20-billion slew of orders on Monday as the industry hawked its latest jets on the first day of the Paris International Air Show.
Under heavy grey skies, duelling giants Airbus and Boeing gathered with more than 2,000 smaller aerospace suppliers to woo airlines at the first Le Bourget show since global economies began to recover from the financial crisis.
French-based Airbus, owned by European high-tech giant EADS, was on home turf and flying high on the back of Asian orders for its new fuel-efficient A320neo worth more than $10 billion.
And the first day brought more good news for the company, with firm orders for 142 planes, most of them for the small but cutting edge A320neo, for an estimated total of $15.1 billion.
But Boeing also had a good opening, selling 22 planes for $3.435 billion.
The biggest customers were the giant US jet leasing firms ALC and Gecas, renewing their fleets, the Scandinavian SAS and fast-growing Gulf carriers Qatar and Saudi Airlines.
And the American firm scored a point when Qatar expressed its disappointment during the signing ceremony over Airbus' two-year delay in its A350 long-haul carrier which the Gulf company has ordered in large numbers.
Airbus was put on the back foot when one of its flagship A380 superjumbos clipped a structure by the taxiway on arrival Sunday, meaning it could not make the demonstration flights which provide the "wow factor" at the show.
Honour was partly restored when a Korean Airlines A380 stepped up to perform a fly-past, its elegant sky-blue fuselage curving gracefully through the clouds over the historic airfield as thousands looked on in awe.
Boeing had brought along its 747-8 Intercontinental, allowing the longer, modernised version of its trademark jumbo jet to make its international debut in great style on its rival's doorstep.
Meanwhile, the world's third largest planemaker, Embraer of Brazil made a splash with orders worth $1.7 billion from airlines in Indonesia, Kazakhstan and Kenya for 39 of its 70-120 seat regional jets.
"It's a truly remarkable achievement, given that we've reached 1,000 orders only seven years after our first delivery," the company said.
Separately, ATR, a joint venture of EADS and Italy's Alenia which produces regional jets, said US leasing giant GE Capital Aviation Services would buy 15 of its ATR 72-600 series and take an option on 15 more for ê680 million.
ATR hopes that by the end of the week its new orders for 2011 will total two billion dollars and confirm that it leads the regional jet market alongside Canadian rival Bombardier.
Jim Albaugh, head of Boeing's commercial aircraft operations, said the market was coming back strongly while noting that smaller firms from emerging countries such as China and Brazil were beginning to make an impact.
"Traffic is coming back in very strong fashion," Albaugh told a briefing, adding that the days of the Airbus-Boeing "duopoly" was over.
The stakes are high. Last week, Boeing said 33,500 planes worth $4 trillion would be needed over the next 20 years.
The business of the event will be dominated by commercial aviation, the military market depressed by government spending cutbacks, but the scientific star of the show will be a unique solar-powered plane, the Solar Impulse.
Opening the festival, France's President Nicolas Sarkozy urged France's private defence contractors – firms in which the state holds large but not majority stakes - to work more closely together.
"Only one strategy is possible, to meet the challenge of globalisation in being more innovative, more imaginative and more competitive," he said.
Follow Emirates 24|7 on Google News.