A Dh80,000 TV: Samsung unveils UHD TV in Dubai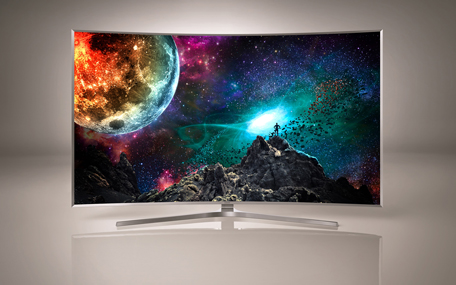 Samsung Gulf Electronics unveiled its range of Curved SUHD TVs in Dubai at the just-concluded Gitex Shopper Spring Edition. The South Korean firm has begun taking pre-orders for its Curved SUHD TVs, which will be available in the UAE later this month.

The new TVs will run Samsung's Tizen operating system and Vinod Nair, General Manager of CTV Business at Samsung Gulf Electronics, told 'Emirates24|7' that it is nano-pixel technology that makes a huge difference to the viewing experience offered by its UHD TVs.

"Others call it quantum dot, but it's much beyond that. We have taken the technology and made it environmentally friendly," says Nair.

A quantum dot (QD) is a nanocrystal made of semiconductor materials that is small enough to exhibit quantum mechanical properties.

"QD normally uses cadmium, which is harmful for the eyes," he says. "We are the only ones to have an eco-friendly, human-friendly technology," adds Nair. "The entire engine has been re-mastered, and the panel is 10-bit," he further explains.
The result, he says, is a TV that can reproduce 64 times more colour expression than existing UHDs. "The image quality is totally different," he notes.

Samsung will offer three new series of SUHD TVs: JS9500, JS9000 and JS8500, in nine screen sizes from 48" to 88".
But where is the content to view on such a high-end TV, we ask.

"It can upscale any full HD or HD content to UHD content," Nair says. "All broadcast channels can still be upscaled, but the best effect comes when there is HD broadcast," he says.


Admittedly, HD broadcast still remain limited. "Yes, we are currently lagging in broadcast UHD content, but we have formed a UHD alliance with all the major studios and all the companies that are making associated software and hardware," Nair reveals.

Samsung and a handful of its rivals (Sony, Panasonic, and Sharp) have teamed up with a set of competing Hollywood studios and online broadcasters (Disney, Fox, Warner Bros., Netflix, and DirecTV) along with Dolby and Technicolor to achieve what Samsung's executive vice-president of Visual Display Business said "is a game changer" while announcing the alliance earlier this year.

As a founding member, Samsung says the newly formed UHD Alliance will ensure consumers will have access to premium UHD content. "The UHD standards set by this alliance will make it an easy experience for consumers," says Nair.

"Content from the studios will still be limited as they will be re-mastering their existing content for UHD," he adds, but notes that "user generated content" will be key. "Today you have smartphones that can shoot 4K, cameras… user-generated content will drive this category," Nair says.

For an 88-inch UHD TV being retailed at Dh80,000 in the UAE, how many units does Samsung hope to sell?
Not getting into forecasts, Nair says, "Samsung had a 69 per cent share of the UHD market last year. We expect to continue that this year, too."

The Gulf headquarters in Dubai covers the UAE, Oman, Bahrain, Qatar and Kuwait. "The TV will be first available in the UAE by third week of April, and will be available in other markets within a couple of weeks of that."

The SUHD TV JS9500 will be available in three sizes, and will feature the company's proprietary Chamfer bezel design, which seems to add more depth to the TV screen.

Nair adds that Samsung's SUHD TVs have several "exciting" features that will make them hotsellers this year. "The SUHD re-mastering engine up-scales content and improves the viewing experience manifold," he says.

In addition, the curved design offers an "immersive viewing experience" and the Samsung Smart TV functions are powered by the firm's new Tizen OS.

Samsung says that when it introduced the curved form-factor in 2013, it dramatically enhanced the home entertainment experience for consumers. "The SUHD TV now takes it to a whole new level," concludes Nair.


Follow Emirates 24|7 on Google News.