Apple, Google, Facebook, Amazon: Tech leaders today, has-beens tomorrow?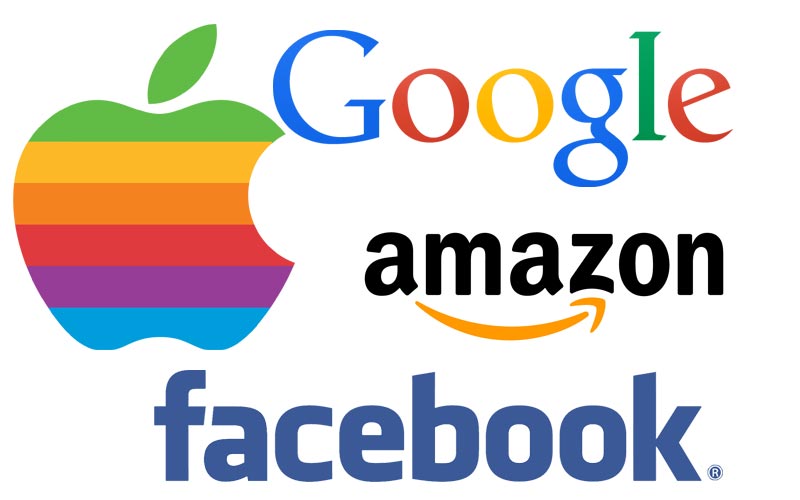 Will the tech leaders of today be the has-beens of tomorrow?
Apple, Google, Facebook, and Amazon hold dominant positions in the tech sector and have been among the biggest engines driving the Nasdaq above the 5,000 mark this week for the first time since 2000. But analysts are far from confident that they will maintain their perch in the tech stratosphere.
Such an upheaval would fit with previous tech eras, which saw companies drop out of the top tier, like Microsoft, or become shadows of their former selves, as with the now-private Dell.
The tech world moves so quickly that in 2000 Google wasn't yet public and Facebook didn't exist. Apple had yet to introduce the iPod, let alone the iPhone.
Of roughly 20 investors, strategists and analysts polled by Reuters, all expected at least one of the current leaders — dubbed by some the "Four Horsemen of the Mobile Age" – to continue setting trends, but opinions differed on which might wane in importance, and which companies could replace them.
"In other sectors there's a greater sense of permanence in the leadership, but tech is always changing," said Scott Kessler, head of technology sector equity research at S&P Capital IQ in New York.
Looking 10 years down the road, the "sharing economy" could come to define tech, said several experts, including Walter Price, managing director of the AllianzGI Global Technology funds in San Francisco; David James, of James Investment Research; and Kessler.
Names like Uber and AirBNB — which provide marketplaces for buyers and sellers of services — have been already valued at tens of billions of dollars, though they are not publicly traded.
"These new companies have already become valuable because they've invented a new way of doing things, and tech is all about creating cheaper or more efficient ways of doing things," said Price.
Other potential horsemen of the future mentioned at least once include real estate firm Zillow Group Inc, the privately held messaging service Snapchat, and Paypal, which will be spun off by eBay later this year.
"Any company that has a 50 percent share of the mobile payments market seems like a worthy contender regardless of any development of a sharing economy," said Daniel Kurnos, an analyst covering internet stocks at Benchmark Co in Boca Raton, Florida.
Even so, some of today's top players could maintain their top positions.
Apple, whose iPhone provides customer access to services like Uber, could be among the companies to benefit from a rise in "sharing" activity.
Apple, Google, and Facebook all have the dexterity to stay where the action is and hold their own over the next decade, said Skip Aylesworth, portfolio manager of the Hennessy Technology Fund. He sees Facebook – which recently spent $2 billion to buy virtual software company Occulus Rift – also staying at the top of the heap of social network firms, some of which could disappear into mergers and acquisitions.
But in Aylesworth's view, the fourth horseman won't be Amazon. It will be "a name we haven't heard of or is insignificant today," he said.
Follow Emirates 24|7 on Google News.