Apple's $10,000 rose gold-plated iPhone 6S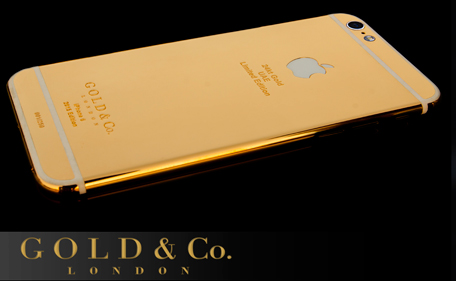 Apple might launch a $10,000, special edition of the iPhone in rose gold.

With the 2015 edition of the iPhone, details point not just to the introduction of a new colour, but several other additional features including a RAM and camera update.

The details emerged in a research note published by Ming-Chi Kuo of KGI Securities.

Apple Insider which reported quoting from the report points out that Apple plans to name the next edition of the iPhone as 6S and not iPhone 7.

Apple is also expected to continue to position its products as a fashionable product and could come out with a gold edition of the iPhone.

Apple did that with the Apple Watch and could well do it with the iPhone.

While the gold edition of Apple Watch starts at $10,000, Kuo believes that the rose gold edition of the iPhone 6S could also follow a similar pricing strategy and will be priced starting $10,000.

Unlike the watch the iPhone could only be gold plated.

If it is indeed gold plated the above mentioned price tag would be almost twice what the London based Gold & Co is charging for a similar customized iPhone 6. A rose gold plated iPhone 6 at Gold $ Co has priced between $4500 to $5700.

Camera is another department where the next gen iPhone could improvise.

Apple restricted the iPhone 6 to a 8MP sensor but according to Kuo the next edition could incorporate 12MP sensor.

There have also been rumours earlier that Apple could introduce two lenses into a future device to bring in DSLR like features.

The new iPhone could also get a RAM boost.

The iPhone 6 currently comes with 1GB of RAM and Apple could increase it to 2GB with the iPhone 6S.

Certain handsets have already started rolling out 4GB of RAM and it is time Apple improves its processing powers.

Force touch

There have also been reports that Apple could incorporate force touch features into the iPhone.

Force touch was introduced into the Apple Watch.

The MacBook Pro (Retina, 13-inch, Early 2015) and MacBook (Retina, 12-inch, Early 2015) come with the new force touch trackpad.

The force touch trackpad on a MAC lets users force click by pressing on the trackpad and then applying more pressure to take advantage of new functionality in many apps and system features.

The introduction of the feature on the iPhone could mean much fewer buttons, leaving the screen uncluttered. Additional features will only appear when users want them and force touch the screen. The feature will also mean Apple stands out from the rest of the manufacturers as no other handsets currently enable force touch.
Follow Emirates 24|7 on Google News.