Apple's final countdown: 5-inch iPhone 5S (or iPhone 6)? iPhone mini (or iPhone 5C)?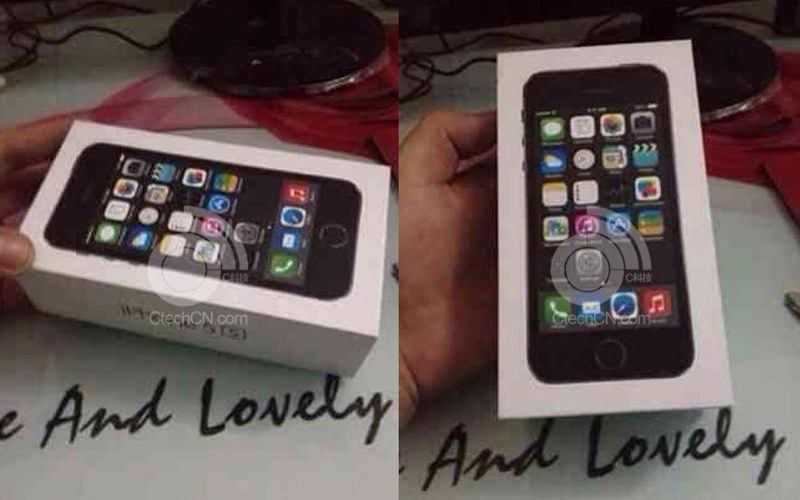 The countdown to one of the biggest product launches of the year has begun.
Tomorrow, Apple will announce two new devices the iPhone5S or iPhone 6, and a budget iPhone that is being labelled the 'iPhone mini' or could even be called the iPhone C.
The website makes specific mention of the round circle around the home button and points out that it is the fingerprint recognition technology.
The frenzy has already started.
9to5 mac has published leaked images of an iPhone5S packaging. The images were originally uploaded by a Chinese blog Ctechcn.com.

There are reports of fans already queuing up in front of stores in the US in an effort to ensure that they are the first to buy the latest iPhone when it is released, although Apple is yet to announce when the device will go on sale.
Meanwhile, there has been almost near-unanimity among industry experts as to what Apple will announce tomorrow, September 10.
iOS7
To begin with, Apple for sure will announce its improvised OS the iOS7 that boasts a much cleaner and simpler design.
Several, or most of the icons have been redesigned and a beta version was showcased during the Worldwide Developers Conference in San Francisco.
Fans are expecting that the new OS will be ready for use in all three formats, iPhone, iPad and iPod.
New iOS 7 software will debut with a free iTunes Radio Service featuring more than 200 stations "and an incredible catalog of music from the iTunes Store," Apple announced earlier this year.
The service will be integrated with Apple's personal voice-assistant software program Siri, so users will be able to find out "who plays that song?"
The streaming radio service is part of what Apple chief Tim Cook branded the biggest change to iOS -- Apple's mobile operating system -- since the introduction of the iPhone in 2007.
iMini
There is definitely going to be two new devices that will be announced. Apart from the iPhone5S, Apple has been working towards building a mini or budget iPhone.
It has been more or less confirmed that the iPhone 5C, as it could be finally called, will have a plastic build, a four-inch screen and A6 processor.
Screen size
Meanwhile, there has been immense pressure on Apple to increase the screen size of its next flagship model.
While Android and Windows counterparts are constantly upgrading products with a five+ inch screen, Apple has continued to limit its screen size to 4 inches.
Although some reports suggest that the new model will have a 5-inch screen, several leaks have claimed that Apple could continue with a 4-inch display.
The new phone will have a similar look and feel of the iPhone5.
Finger print scanner
A fingerprint scanner has been expected in Apple devices since Apple acquired AuthenTec - a Florida-based firm specialising in mobile and network security.
It is now more or less confirmed that Apple plans to use scratch-proof sapphire crystal for the iPhone 5S's home button that will also be capable as acting as fingerprint sensors.
Camera
Another significant improvement that we are expecting to witness in the new device is in the camera.
Will Apple follow Samsung and HTC and opt for a 13 MP camera or retain its 8MP in the new device?
Various leaks have also pointed towards a new slow motion camera, thanks to a new feature called 'Mogul' that enables video recording at 120 frames per second.
The crucial question that's on every one's mind is how much Apple could price its iPhone 5C for. Some rumours suggest Apple could price it between Dh1,000 and Dh1,500, making it attractive enough for a first time user to latch on to Apple`s new budget phone.
No iWatch or iTV
Analysts did not foresee any talk of Apple watches or TV at the Tuesday event.
"I don't think these are things that Apple wants to get into at this point," Gartner analyst Ken Dulaney said of persistent rumors of an "iWatch" or revolutionary advancement in Apple TV set-top boxes.
The smartphone market is now dominated by Android devices, with roughly three-fourths of all handsets, but a forecast by research firm IDC suggested Apple will increase its share this year to 17.9 percent from 16.9 percent.
Cantor Fitzgerald expressed optimism that Apple would enter new product categories in the coming 18 months.
Cantor noted that it was six years after the iPod launched in 2001 that the iPhone made its debut, and another three years before the iPad arrived.
"As such, if Apple were to introduce 'iTV' or 'iWatch' over the next year, this would be slightly ahead of historical cycles," Cantor reasoned. "Clearly, we believe Apple's innovation engine remains in full force."

iChina
Apple has also invited press to a Wednesday event in Beijing that analysts believe signals a deal to add iPhones to China Mobile's massive telecom network in that country.
China Mobile has more than 700 million subscribers, according to Barclays Equity Research.
"The only real potential to surprise investors seems to be in the scope and velocity of a new China strategy and any new features within iOS 7 and fingerprint scanner technology," Barclay's said in a note focused on what is expected from Apple..
Apple's iPhone franchise has historically focused on premium products at premium prices, essentially leaving the company "unable to address" approximately 60 per cent of the opportunity in the smartphone market, the investment bank Cantor Fitzgerald said in an analyst note.
"We expect this to change with the introduction of the plastic-encased iPhone 5C," Cantor Fitzgerald said.
MUST READ:
Follow Emirates 24|7 on Google News.