Apple's iPhone 6 may not be called iPhone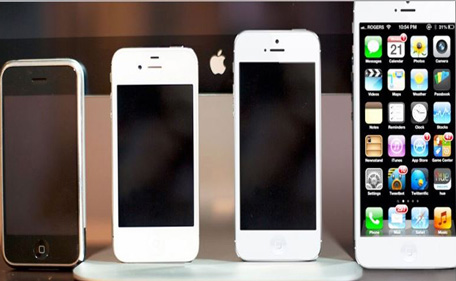 Fresh hot rumours about Apple Inc.'s (NASDAQ:AAPL) next iteration of the iPhone are gaining momentum as the supposed release gets an almost universal nod from analysts and speculators alike.

Among the things that most Apple-watchers seems to agree on, beside the September release date, is that the iPhone 6 will sport a bigger – but not huge – screen size of 4.7-inches, so it can challenge Android-based phablets, such as the Galaxy Note 3 and the LG G2 (including the soon-to-be-launched G2 Mini).


In addition, a number of online commentators and analysts have speculated that, this year, Apple will take the wraps off its larger 5.6-inch iOS Phablet. All well known.

However, a new report from Taiwan's Economic Daily News suggests that Apple may shock us all by a), launching and the larger phablet much earlier than September and b), by not making it part of the iPhone family at all.

According to the Taiwanese news portal, the 5.6-inch phablet – let's call it iBrid (Read: iPhone 6 + iPad 5 combined = Apple iBrid convertible notebook) – will be an "experimental" device that won't come with iPhone branding.



Now we all know that we must take this report with a pinch of salt, especially considering the popularity of the iPhone brand, but with Apple making a mess last year with its iPhone 5c launch, it may not want to risk associating the iPhone branding once again with an experimental device.

Apple's CEO Tim Cook has gone on record deriding slower sales of the iPhone 5c, just falling short of acknowledging it as a mistake. He admitted, though, that demand for the iPhone 5c "turned out to be different than we thought," during Apple's Q4 earnings call earlier last month.

Of course, he credited stellar sales of the iPhone 5s for the slower uptake of the lower-end model. "I think the 5s, people are really intrigued with Touch ID," Cook said. "It's a major feature that has excited people. And I think that associated with the other things that are unique to the 5s, got the 5s to have a significant amount more attention and a higher mix of sales," he said.

Arguably, Apple is not going to make the same 'mistake' again of launching two different versions of the iPhone at the same time, or even in the same year. The alternative branding theory, therefore, makes sense (to us) although the portal doesn't offer specifics on launch dates.

Some of the other details published by it have been doing the rounds for a while, like the one that says that Apple is looking to use a sapphire glass cover for its next-generation iPhone 6 – or rather the 5.6-inch model iBrid. It must be noted that this is most likely going to be the case – Apple signed a $578 million deal with sapphire glass supplier GT Advanced Technologies in late 2013.

The report does, however, differ from popular rumours in that it states that the new 4.7-inch iPhone 6 model will continue to sport Corning Gorilla Glass, like previous handsets from the company.

Sapphire glass, on the other hand, is used in military warheads due to its high heat resistance, says the UDN report, which saves it from melting away at high altitudes. It is also used in LED crystal growth process, as well as in high-end watches. The iPhone 5 already uses sapphire glass but only as a lens cover, and not the display screen.

All pics: MacRumors

Follow Emirates 24|7 on Google News.