Apple's iPhone 6s invite-only launch: Here's your pass in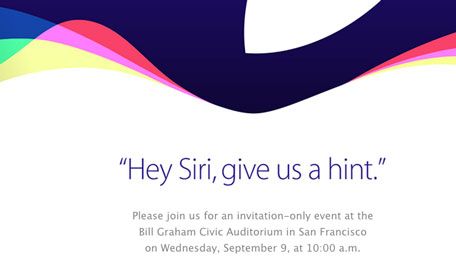 "Hey Siri, give us a hint."

That is Apple's pick-up line for its fans and followers to join CEO Tim Cook and team on September 9 for the unveiling of the next iterations of the iPhone.

Not much camouflage from Apple this time – the traditional fall launch is scheduled for its favourite date, on September 9 this year, at San Francisco's Bill Graham Civic Auditorium.

Apple did manage to keep the venue under a shroud of mystery until the San Francisco neighbourhood news network Hoodline on Monday, August 24, stumbled upon a mysterious company that has rented the Bill Graham Civic Auditorium from September 4 until September 13 to host a "private event".

After that piece of information was corroborated against a list of potential exhibitors, none of which had announced a 'trade show' on those dates, it didn't take a Sherlock Holmes to arrive at the conclusion that it was the ever-secretive Cupertino-based Apple that was up to its usual tricks at this time of the year.

The auditorium is huge – with a 7,000-strong capacity – and that means that Apple does have a few tricks up its sleeve. There have been rumours about a number of new Apple products ready for the market – the new iPads including the phantom known as iPad Pro, the iOS 9, the watch OS2… all of these and more are rumoured to be market-ready.

Apple spring event to launch the Apple Watch was held in the Yerba Buena Centre for the Arts Theatre in San Francisco, with a 755-seat capacity in the theatre that Apple had chosen for the unveiling.

So, a venue with literally 10 times the capacity of its previous event venue, booked for five days before and four days after the event, does point to something big.

Nevertheless, no one expects Apple to not launch the next iPhones – the iPhone 6s and the iPhone 6s Plus – at the 'invite-only' event at the confirmed time and venue in 11 days from now.
Will there be an iPhone 6c? Looks less and less likely as there have been no recent 'leaks' on it even as rumours, mock-up and leaks re: the iPhone 6s and the 6s Plus have done their full rounds.

We're not ruling out the iPhone 6c, though. Only saying that it's unlikely to be launched on September 9, along with its more illustrious cousins.

Apple's already the world No. 2 in wearables, after Fitbit, and this may be the time to give its watch OS another push to accelerate sales and achieve the No. 1 status.

The fact that Siri got a mention on the invite points to the fact that Apple's artificially intelligent assistant may be getting a makeover or upgrade.

How to Watch

And while a select few (thousands) will be in the Bill Graham Civic Auditorium, here's how you can watch the invite-only event even if you're not on Safari or part of the iOS ecosystem.

If you're one of the more than 75 million users that have upgraded to Windows 10, you'll have a front-seat view of the goings on. Apple has, finally, opened up the event broadcast to a browser other than Safari, and it is Edge, the replacement of Internet Explorer which is part of the Windows 10 OS.

Click here to watch live as CEO Tim Cook takes the stage on 09/09/15 at 9pm UAE time, unveiling what many believe will not just be the iPhone 6s and iPhone 6s Plus, but also a host of other announcements.

Millions of Apple fans can catch the keynote 'live' as Apple will be streaming it live on its mobile devices including iPhone, iPad and iPod touch (Safari on iOS version 7.0 or later), and Mac with Safari 6.0.5 or later on OSX (v10.8.5 or later). You could also stream it on Apple TV (second- or third-generation set-top box, and should be running software version 6.2 or later).

Until now, Apple used to stream the video geared for only its own proprietary browsers, so it wouldn't show up on any other browsers. That policy has seen a welcome change this time, with Apple including one (only one) other browser – the Edge – to that list. In a first, therefore, PC-owners can watch the live telecast if you've upgraded to the Windows 10 operating system and have Edge as your browser.

Follow Emirates 24|7 on Google News.