Apple vs Samsung: Leaked image of Galaxy S4 heats up race for supremacy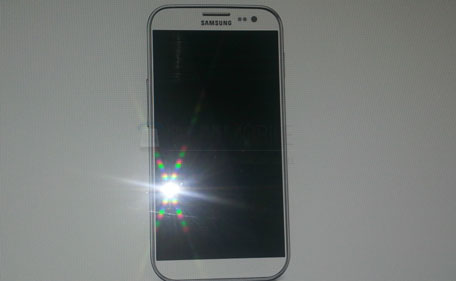 For all those eagerly waiting for the Samsung Galaxy S4, the South Korean giant has announced that the next phone will not be out at least until May this year.
Galaxy S4 is tipped to be announced with a much bigger 5-inch 1080p full HD AMOLED screen, equipped with a more powerful Exynos 5440 ARM Cortex A15 processor, apart from the introduction of the S Pen stylus.
There was a lot of speculation that Samsung could come out with a new device several months before Apple releases its iPhone 5S or iPhone 6.
However, responding to a query from one of the fans Samsung Lebanon said the S4 will not be released at least until May. That also does not mean that the phone would be launched either in May or June.
For Samsung, 2012 was a watershed year that saw it take a giant bite out of Apple Inc as it carved out a dominant position in the global mobile computing market.
Having ended Nokia's 14-year rule as the world's top cell phone manufacturer, Samsung saw its share of the lucrative smartphone market surge to 31.3 per cent in the third quarter of 2012, up from just 3.3 per cent in late 2009.
It extended its lead over main rival Apple as the top maker of smartphones worldwide, according to research firm IHS iSuppli, which gave Samsung 28 per cent of the market in 2012, up from 20 per cent the previous year.
Apple's share rose to 20 per cent in 2012 from 19 per cent, IHS said.
While Apple continues to rely mainly on its iPhone series, Samsung produces dozens of smartphone models every year that address all segments of the market, from the high end to the low end.
As reports have already indicated Apple has already started testing the iPhone6 and the iOS7.
According to the Next Web, developers have contacted them to share references to a new iPhone identifier and the next big operating system update for the smartphone and tablet devices: iOS 7.
"One developer showed us that Apple has been testing hardware relating to a new 'iPhone6,1′ identifier, powered by a device running iOS 7, which is expected to be released by Apple in the middle part of this year," the report said.
Meanwhile, more leaked images of the new Galaxy S4 have emerged. The unit resembles the Galaxy Note and also does not come with a separate home screen and is nothing like what the concept videos had portrayed it to be.
Samsung @ CES
Although there will not be any major announcements by Samsung this CES, a prototype of the Galaxy S4 is expected to be unveiled this CES to a select group of audience, and behind closed doors.
As it was in 2012 with the S3, Samsung's S4 and the iPhone 5S or 6 are among the most awaited phones in 2013. The list of other phones to be released this year include the Sony Xperia, Motorola Droid Razr M HD, and the Blackberry 10 models.
South Korean giant said Tuesday it expected to post a record operating profit of 8.8 trillion won ($8.3 billion) in the fourth quarter of 2012.
The predicted operating profit for October-December represents an 89 percent rise from a year earlier, and would beat the record of 8.1 trillion won set in the previous quarter.
Samsung, the world's largest technology firm by revenue, was giving earnings guidance before announcing official results later this month.
Fourth-quarter sales were estimated at 56 trillion won, up 18.4 percent from a year earlier, according to the company, which did not provide figures for each of its business divisions.
Samsung, also the world's leading smartphone and memory chip maker, did not disclose its net profit estimate.
Ubuntu targets Apple's iOS and Android, threatens to take mobile industry by storm
2012 – Year of the Smartphone: And top 5 in UAE are…
Follow Emirates 24|7 on Google News.