Apple warns its iPhone-led growth era may be over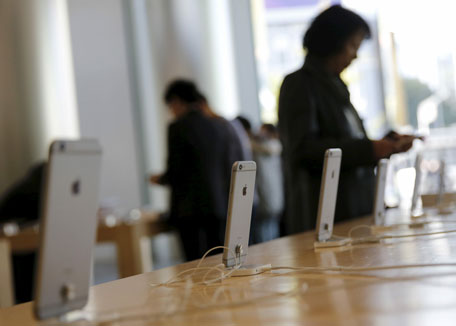 Apple Inc. (NASDAQ:AAPL) says it saw the greatest number ever of switchers from Android to iPhones in the latest quarter as it announced the world's biggest ever quarterly corporate profits last night.
The Cupertino-based firm posted record quarterly revenue of $75.9 billion (Dh278.8bn) and record quarterly net income of $18.4 billion (Dh67.6bn).
These results compare to revenue of $74.6bn and net income of $18bn in the year-ago quarter. International sales accounted for 66 per cent of the quarter's revenue, Apple said.
However, it is forecasting a more than 30 per cent drop in revenues in the current quarter, which will be its first revenue drop in 13 years.
But first the good news.
"We sold 74.8 million iPhones in the December quarter – an all-time high," Apple's CEO Tim Cook said during the investor's conference call last night.
"To put that volume into perspective, it's an average of over 34,000 iPhones an hour, 24 hours a day, 7 days a week for 13 straight weeks," Cook said.
"It's almost 50 per cent more than our Q1 volume just two years ago, and more than four times our volumes five years ago," he said.
However, despite the record-smashing performance, investors dumped AAPL shares in after-market trades, pushing the stock down by more than 2.5 per cent.
Here's why.
Reflecting the economic turmoil that the world is currently going through, this growth momentum is almost certain to slow down, and Apple CEO Tim Cook acknowledged this during the call.
While Cook said that the 74.8m iPhones was an "incredible number," he added that "we're seeing extreme conditions unlike anything we've experienced before just about everywhere we look."
And unfortunately for Apple, that "everywhere" does include China.
"We know that the conditions in China have been a source of concern for many investors. Last summer, while many companies were experiencing weakness in their China-based results, we were seeing just the opposite with incredible momentum for iPhone, Mac and the App Store in particular," he said.
The latest December quarter also saw Apple register its best-ever figures for Greater China, with 14 per cent revenue growth.
"Notwithstanding these record results," Cook pointed out, "we began to see some signs of economic softness in Greater China earlier this month, most notably in Hong Kong," said Cook.
Given the shaky global economic environment, Apple is giving a forward revenue guidance of between $50bn and $53bn, a decline of more than 30 per cent from the latest quarter's record results.
Investors, obviously, don't like that, but Apple says that, as a company, it remains strong as ever.
"Beyond the short-term volatility, we remain very confident about the long-term prospects of the China market, and the large opportunity ahead of us and we are maintaining our investment plans."
In addition, the US dollar's continuing strength is a cause for concern for the tech giant.
"Major markets including Brazil, Japan, Russia, Canada, Southeast Asia, Australia, Turkey and the Euro Zone have been impacted by a slowing economic growth, falling commodity prices and weakening currencies," he said.
"Since the end of fiscal 2014, for instance, the euro and British pound are down double-digits [against the US dollar], and major currencies such as the Canadian dollar, Australian dollar, Mexican peso and the Turkish lira have decline 20 per cent or more. The Brazilian real is down more than 40 per cent and the Russian rouble has declined more than 50 per cent," he said.
"Two-thirds of Apple's revenues is generated outside the US, so foreign currency fluctuations have a very meaningful impact on our results," he explained.
And while the Indian rupee is down double-digits against the US dollar, Cook's Apple has designs on the billion-plus Indian market to make up for the slowing Chinese growth.
"We are also seeing these times as opportunities to invest in new markets such as we are doing in areas such as India and other emerging markets," said Cook.
Based on that, and the fact that it has a 'loyal' customer base and is seeing an increasing number of Android-switchers, Apple remains hopeful for the future.
"Despite the economic challenges all over the world, Apple remains incredibly strong. We have a very satisfied and loyal customer base. We saw a greater number of switchers from Android to iPhone than ever before in Q1, and we are very optimistic about our business in the long run," said Cook.
In a media statement, Cook further said: "Our team delivered Apple's biggest quarter ever, thanks to the world's most innovative products and all-time record sales of iPhone, Apple Watch and Apple TV."
He also noted that Apple's services business is now growing faster. "The growth of our services business accelerated during the quarter to produce record results, and our installed base recently crossed a major milestone of one billion active devices," he said.
"Our record sales and strong margins drove all-time records for net income and EPS in spite of a very difficult macroeconomic environment," said Luca Maestri, Apple's CFO. "We generated operating cash flow of $27.5bn during the quarter, and returned over $9bn to investors through share repurchases and dividends. We have now completed $153bn of our $200bn capital return program."
Apple's board of directors has declared a cash dividend of $.52 per share of the company's common stock. The dividend is payable on February 11, 2016, to shareholders of record as of the close of business on February 8, 2016.
Follow Emirates 24|7 on Google News.