At Dh2,944, would Blackberry 10 be the most expensive smartphone?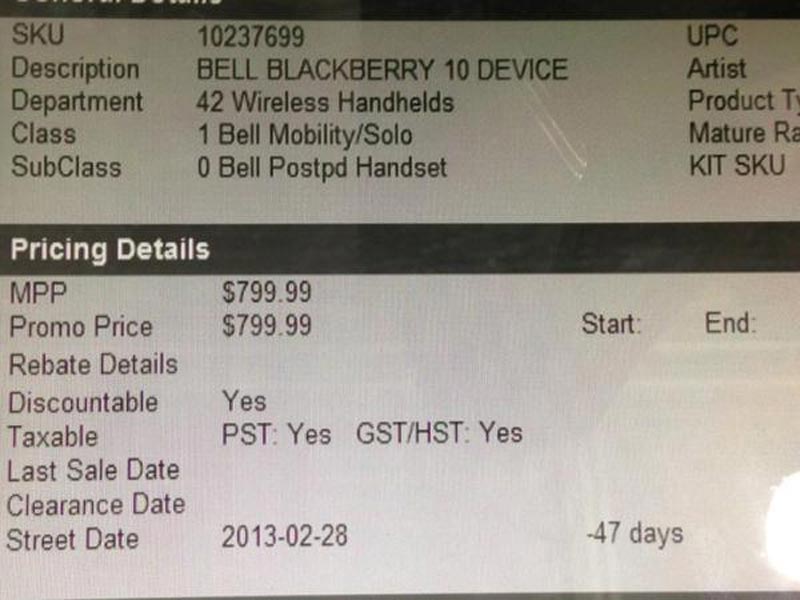 Would you pay Dh2944 for the new BlackBerry device? If the Canadian telecom company Bell Canada is to be believed, the new BlackBerry 10 could be priced at $799.99.
However it is still not clear if the pricing is for the all touch Z10 model or the phone with a keyboard version - X10, previously known as the N Series.
Research in Motion is expected to launch the all-new BB10 operating system along with the two new phone models on January 30.
The new operating system, with its revamped user interfaces such as the 'flow' 'hub' and 'peek' is expected to turnaround RIM's dwindling fortunes and transform the new devices into a totally different league in tune with the latest Apple iPhone, Android and Windows 8 based devices.
It is expected that the new phones will hit markets across the world including the UAE by February.
A recent report by tech blog N4BB, Bell Canada has dropped a hint of their intended "street date" and pricing of the smartphone.
According to it, Bell has set February 28 as the launch date for the new BlackBerry device – which is almost a month after the official launch date.
It has also released the pricing of the new device at $799.99 (Dh2,944), slightly lower than what the 32GB model of the iPhone is priced in the UAE.
However, if the Bell's price leak in an indicator to the entry level BB10 model, it would definitely disappoint a lot of BlackBerry fans who have been eagerly awaiting the launch of the new devices.
Incidentally, Apple has been working on a budget model for the iPhone and is expected to price it around $99 to $149.
"BlackBerry has to be extremely cautious in its pricing. Users are already dumping their BB devices in large numbers. I would expect BB to price it similar to what Apple is charging for its iPhone, if not lower. But a higher price range for BB10 would definitely backfire," warned Rohan Fernandez from Dubai.
Follow Emirates 24|7 on Google News.