BlackBerry Z10 in UAE: Etisalat and du to offer BB10 experience from February 10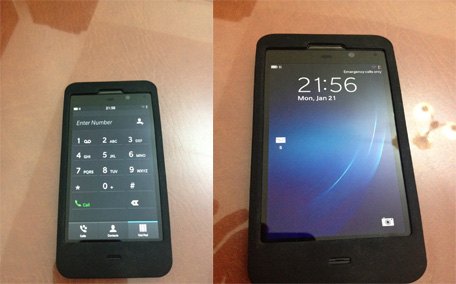 UAE telecom operators etisalat and du say they will make available BlackBerry's new Z10 with attractive plans starting February 10. Du has meanwhile started taking preorders for the phone for Dh200.
BlackBerry launched its new BB10 operating system and an all touch Z10 next generation smartphone last night and promised its availability in the UAE from February 10.
Heads of both etisalat and du said they would not delay offering their customers the new BB10 experience.
Speaking to Emirates 24|7 during the launch function in Dubai last evening, Osman Sultan, CEO, du said, his company would launch new plans for the Z10 on February 10. 'We are very excited about BlackBerry's new operating system and the new set of smartphones. Du will start offering the phones to its customers starting February 10," he said.
Voicing a similar opinion Abdulla Ebrahim Al Ahmed, Senior Vice President, Business etisalat said, "Our customers can buy the Z10 smartphones from February 10."
However, both du and etisalat refrained from providing details about the pricing and plans. "Additional details about the pricing will be announced soon," said Sultan.
Currently, etisalat offers unlimited internet and BlackBerry enterprise service for Dh185 per month while du has priced the similar service but with 4GB of internet usage for Dh200 per month.
Meanwhile, du has started accepting preorders for Z10 and is even warning customers of limited stocks. "You can be the first to have the new BlackBerry Z10 in the UAE. Don't wait, these new smartphones will go fast," a warning on the Z10 preorder page reads.
Customers are also being told that they can preorder a handset by just making a refundable advance payment of Dh200.
"Visit any of our shops and reserve your BlackBerry Z10. You will only have to pay a per-ordering refundable deposit of Dh200. You will receive a voucher, and we will inform you by SMS as soon as we have the BlackBerry Z10 in store," the message on its website reads.
Those who preorder can either choose to buy the handset through any of du's offers, which the website says will be announced on the day of the launch or buy through the standard offer.
Axiom telecom had started taking preorders a day before the official launch. But customers had to pay an amount of Dh2599 in full in order to reserve a unit.
The phone will be released across all continents within the next few weeks. Interestingly, the US market which gets preference when it comes to iPhone shipments following a new launch will have to wait much longer for the Z10.
While the phone is already available for sale in the US, it will start selling in Canada on February 5 and the UAE on February 10. BlackBerry fans in the US will have to wait until March to lay their hands on the device.
ALSO READ:

BlackBerry is back! Availability, specs and prices of BlackBerry Z10 and Q10 unveiled



BlackBerry 10 Dubai launch: Will RIM's first real innovation in 10 years be its last?



UAE retailer begins pre-booking of 16GB BlackBerry 10 at Dh2,599
Follow Emirates 24|7 on Google News.