Dubai Gitex Shopper's 25th anniversary: Robotics, virtual reality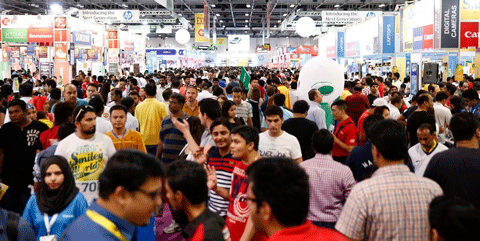 As power retailers and consumers alike gear up for Gitex Shopper's 25th anniversary – taking place from October 3-10 in Dubai, the organisers highlight the industry's top developments for 2015.
Wearables
With wearable tech exploding onto the market in recent years, increasingly fashionable and functional devices such as fitness monitors, smart watches and glasses are expected to drive the growth of the market to an anticipated $19 billion in retail revenue by 2018, according to a recent Juniper Research study.
With smart watches expected to replace fitness wearables by 2017, these companion devices for smartphones are a highly anticipated trend for this year's savvy consumer.
Digital Wallets
With Apple Pay preparing for its activation in the Middle East market, and local versions of the digital wallet already taking the UAE by storm, the days of checking for "wallet, phone, keys," will soon be gone.
By simply scanning a QR code produced via smartphone, items are charged to a registered credit card – meaning convenience and simplicity for retailers and consumers alike.
Virtual Reality
Traditionally the domain of gamers, Virtual Reality is quickly becoming an actual reality for all, with accessible heads-up displays such as Samsung GearVR and Google Cardboard making VR hardware affordable and usable smartphone peripherals.
These consumer media devices are ripe for new content, with many advanced displays such as Meta, Magic Leap, Glyph and the Microsoft HoloLens system starting to gain notable traction as they work to launch consumer products.
According to C. Purushothaman, Head of Marketing for Samsung Gulf Electronics, "Samsung is committed to moving innovation forward, and we're introducing cutting-edge technologies including virtual reality, wearables and phablets at GITEX Shopper this year."
Phablet
Although to many, smartphones might seem like old news, it has to be said that they are only getting smarter with the advent of new technologies. Current trends are showing that tablets are often used as 'second screens', and with phablets growing in availability, consumers will be encouraged to use these as their primary media consumption device – negating the need for a tablet.
"While smartphones are always top-sellers, we're seeing a rising demand in phablets as people look beyond the smartphone screen experience and develop multi-screen preferences," said Nadeem Khanzadah, Head of OmniChannel Retail at Jumbo Group.
The Internet of (Every)Thing/s
The Internet of Everything continues to grow alongside user-oriented computing, with embedded technologies predicted to be the focus of digital business products and processes in industrial and operational contexts.
3D Printers
The expansion of the 3D printing market seems inevitable, with growth in industrial, biomedical and consumer applications helping companies reduce costs. With industry leaders aiming for a 3D printer in every home, advanced printing processes are improving the quality of this technology, with 2015 likely to see faster, lower-priced industrial machines and desktop machines with greater capabilities emerge.
Intelligent Drones – Robotics
With Parrot and DJI Phantom – the two leading drone companies in the market – anticipating combined sales of $1 billion in 2015, up from $180 million in 2013, the increase in civilian drone usage in sectors such as construction, film-making, farming and conservation has created an industry boom. As affordability increases, a burgeoning hobbyist sector is also reaping the benefits.
Virtual Assistants
As consumers become increasingly reliant on smartphone technology, Apple, Google and Yahoo have all acquired "predictive intelligence" apps that will help consumers boost their daily efficiency, helping to get things without being explicitly asked to do so. This technology will be baked into consumers' mobile phones from 2015, with Google already quietly bringing theirs out for Android, and integrated into predictive products from mobile apps to smart speakers.
Beacon technology
iPhones running the latest version of iOS 7 have benefited from the implementation of Apple's iBeacon, meaning that these phones can perform background scans for beacons, even when the relevant apps are closed. Although this doesn't yet exist on Android, beacon technology is a developing trend in this year's market.
Biometrics
With trends growing towards enterprise mobility, corporations are increasing their focus on security. Using unique human characteristics as a means of identity authentication – a fingerprint here, an iris scan there – eliminates the chances of identity theft and also benefits consumers through convenience. No more writing down dozens of passwords, just bat your eyes at a device and let your unique biometric signature do the rest!
Many of the Lenovo devices being featured at GITEX Shopper this year have Intel RealSense technology, enabling them to actually sense and respond to hand gestures and facial movements, allowing users to command their computer without even touching it.
"Lenovo devices coupled with Intel RealSense technology also provides the capability of scanning and printing in 3D, manipulating photos and video-chat in new and exciting ways, as well as interacting with the latest-generation video games," said Mohammed Halilili, General Manager Lenovo Gulf.
Follow Emirates 24|7 on Google News.