Dubai's wonder app: mPay transactions up 5 times in one year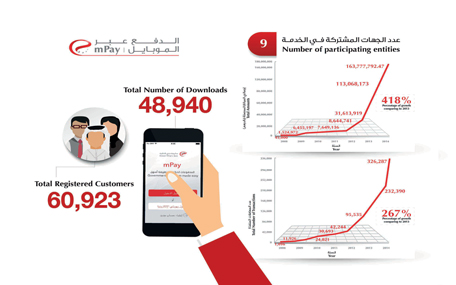 Dubai Smart Government's mPay app for mobile payments through smartphones saw over Dh163 million collected, resulting in a 418 per cent increase in collections in 2014 compared to the previous year and a rise of 267 per cent in the number of transactions.

As much as Dh163.77 million through 326,287 transactions were collected through the mPay app by the Dubai government entities by the end of December 2014, as compared with Dh31.6m through 88,988 transactions in 2013.

Ahmad bin Humaidan, Director-General at DSG, said these figures indicate the rising pace of smart transformation to smart government in a bid to ease the lives of all the segments of the society and make them happy.

This is substantiated by the increasing rates of customers' adoption of the mPay option for completing their government transactions on one hand and by the rising rate of their confidence in the efficiency and security of this option on the other.

Bin Humaidan said: "Great importance is attached to this app as an effective channel for enabling customers – citizens, residents, businesses and visitors – to access government services on their smartphones everywhere and round the clock.

"Upon launching this app, DSG was keen on achieving the concept of connected smart government by co-operating and co-ordinating with so far 9 major government entities to provide a selected package of services for customers through one app, in order to meet their needs and give them easy access to all government transactions from one place and through one mobile device."

Meanwhile, more users of smart devices are downloading the app, with the number of customers registered in the app rising from 13,600 by the end of 2013 to around 70,000 by the end of 2014, up by 415 per cent, while the app was downloaded around 49,000 times in 2014.

The app, which can be accessed under mPay from Apple Store for iPhone users and Google Play Store for Android users, enables users to register directly in the service as soon as it is downloaded. Its homepage also provides adequate explanation for users on how to register in and use the service.

By registering in the service, customers can customize the payment services provided by the participating government entities.

Using one step, customers will also be able to implement 10 commonly used services such as paying electricity and water bills, traffic fines, Etisalat and Du bills, RTA Salik and Nol fees, some of Dubai Municipality's and Dubai Customs' services; and donating for Al Jalila Foundation and Dubai Cares. The auto-payment feature, which allows automatic payments, can also be used, along with safety features such as control over the minimum balance and the maximum payment/recharge.

Moreover, users can optimise the multiple accounts feature by phasing several payments at selected dates. To make use of these facilities, customers must register first with their credit card details in mPay.
Follow Emirates 24|7 on Google News.