Dubai to make its own space satellites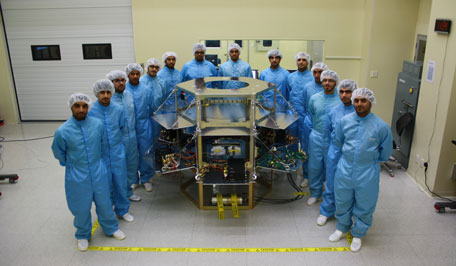 Dubai will start works this year on building the first of its kind high-technology facility for manufacturing satellites in the region.

The emirate will also launch two new satellites - DubaiSat-3 in 2016-2017 and DubaiSat-4 in 2020, said Salem Humaid Al Marri, Director of Space Programme Department at the Dubai-based Emirates Institution for Advanced Science and Technology (Eiast).

"We are following a 15 year timeline to launch a number of satellites. This plan will be completed by the year 2020 with the launch of DubaiSat-4. We will start building the high technology satelitte-manufacturing facility this year. It will be completed and ready to function within two years."

Al Marri added that some parts of DubaiSat-3 will be manufactured in the emirate by Emirati engineers in the new facility and some parts will be made in South Korea. "DubaiSat-4 will be 100% designed and made in Dubai by our Emirati engineers."

Al Marri added that Eiast is also considering future cooperation with Yahsat, a private joint stock company fully-owned by Mubadala which is an investment arm of the government of Abu Dhabi in the field of satellites and space technology.

"We sent the first group of engineers to South Korea eight years ago as part of a training programme to enable our Emirati engineers to learn the designing, making, controlling and managing satellites. It would have been easier and cheaper for us to buy these satellites. However, the government aims to transfer the knowledge to the next generation and enable them to be qualified in this field which is new in the country and the region. And, it puts this aim before any other cost."

He added that the pictures taken by the satellite are very important and help decision-makers a lot.

"Our main area of expertise is to take pictures. We take pictures from the space of different parts of the world. This helps in keeping track of the development of huge projects, as well as the natural disasters, among others. For example, a project like Sheikh Mohammed bin Rashid City is a huge project and it is not possible to track the development of this project by looking at it and field visit will take many days and it won't be 100 per cent accurate. With the pictures taken from the satellites, it will be much easier to track the project. We can take pictures on daily basis and prepare reports which is then handed over to decision-makers or the developers of the project which help them in following up on the development of the project. We have also taken pictures of the Tsunami waves which hit Japan, as well as the floods in different parts of the world."

"Currently, we have only DubaiSat-1 working in space. We are going to launch DubaiSat-2 in the first half of 2013. Once it is launched, the pictures taken by DubaiSat-2 will be of better quality and we will be able to take more pictures with two satellites operating than one.

He added that the speed of DubaiSat-2 will be eight times the speed of a bullet.

Al Marri pointed out that Eiast is a government-owned company, and it gets its funding from the government. "We also receive lots of orders from countries such as USA, Brazil, and many European countries which ask for pictures of different projects and parts of the world. The demand for our pictures is very high and we sell these pictures to them."
Follow Emirates 24|7 on Google News.