Etisalat profit falls 9% to Dh1.8bn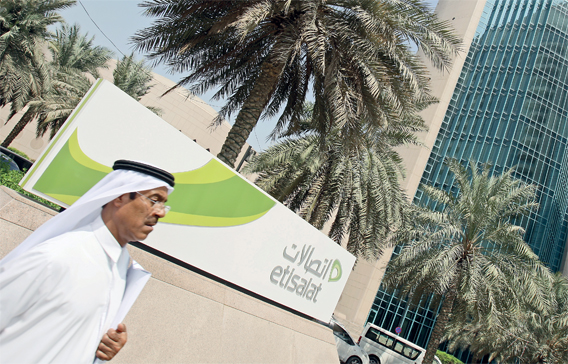 Etisalat, the Middle East's largest telecoms firm by value, posted an 8.9 per cent drop in quarterly profit, missing forecasts, as expenses rose faster than revenue.
It reported a first-quarter profit of Dh1.82 billion ($496 million). That compared with Dh1.99 billion, the figure from a year earlier and also the average forecast projected by analysts polled by Reuters.
"I'm not expecting earnings growth in 2011, but the company is maintaining annual earnings of about 1 dirham per share, which is reassuring," said Simon Simonian, Shuaa Capital telecoms analyst, who has a "buy" recommendation on etisalat.
"There's still good value in the stock when you consider its price-to-earnings ratio, dividend and net cash position. Some other operators are leveraged," said Simonian.
Revenue climbed 2.1 per cent to Dh8.04 billion, but operating expenses increased at a faster rate, rising 11.3 per cent, the firm said in a statement.
"The subdued overall performance for the first quarter was mainly due to competitive pressures in its home market," Global Investment House wrote in a research note.
"Both revenue and profitability from the UAE are likely to remain under pressure," it added. "Key growth areas (will) be data and internet services."
"The company's profit for Q1 was lower than our estimate of Dh2bn. The subdued overall performance was mainly due to competitive pressures in its home market UAE. We are of the opinion that both revenue and profitability from UAE are likely to remain under pressure. We believe that in UAE the key growth area would be data and internet services. Amongst international operations, we are optimistic about etisalat's operations in Egypt and Saudi Arabia," said Chandresh Bhatt, Vice President for Research & Publications, at Kuwait-based Global Investment House.
Etisalat had 7.43 million UAE mobile subscribers, 1.13 million fixed line subscribers and 0.49 million internet subscribers by March-end.
International revenue rose 16.7 per cent to Dh1.82 billion in the first quarter from last year, but Shuaa's Simonian warned against reading too much into these numbers.
"There's often fluctuation in the quarterly international figures, with FX effects playing a part, so I'm more comfortable taking the annual data," said Simonian.
In February, the UAE telecoms regulator cut rival operator du's planned royalty payment to 15 per cent of profit from 50 per cent, and only for 2010, not the previous two years. As a result, some analysts expect etisalat's royalty payment for 2011 will also be cut.
Du ended Etisalat's monopoly in 2007.
"I don't think the market is pricing a potential cut in and so there could be a positive surprise for etisalat's shares," added Simonian.
In March, etisalat withdrew plans to bid for Syria's third mobile licence, saying the terms did not offer sufficient value for shareholders, while earlier last month it also scrapped a $12 billion takeover of Kuwait's Zain.
Etisalat shares closed up 0.5 per cent on the Abu Dhabi bourse prior to the results.
Follow Emirates 24|7 on Google News.