Galaxy S6 vs iPhone 6 vs HTC One M9: Hottest deals @ Gitex Shopper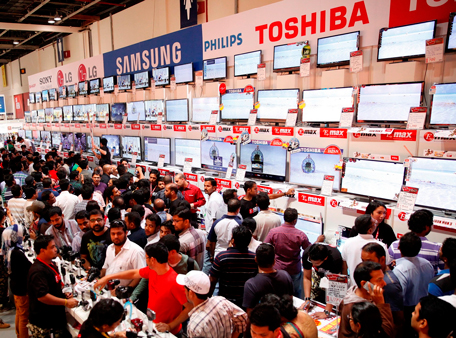 Get ready to loosen your purse-strings this week to master the cutting edge of technology. Most global brands will be out there at this year's Gitex Shopper Spring to woo you and your wallet – and it's up to us consumers to decide the winner in this battle of global brands.

"Big name brands and retailers returning to Gitex Shopper Spring will include E-City, Emax, Jacky's Electronics, Jumbo Electronics, Plug Ins Electronix, Samsung Gulf Electronics and Sharaf DG – so shoppers can be assured of a number of exciting launches and the widest variety of products at the most competitive prices," Hassan Mosafer, Exhibition Director of the Gitex Shopper Spring at organisers Dubai World Trade Centre (DWTC), tells Emirates 24|7.


The four-day consumer electronics extravaganza starts Wednesday, April 1, and will continue over the weekend until Saturday, April 4, 2015.

Smartphones, laptops, tablets, and high-definition TVs will be amongst the hottest selling categories at this year's Gitex Shopper Spring, which kicks off in a couple of days in Dubai.

Samsung will be showcasing the not-yet-on-sale Galaxy S6 and Galaxy S6 Edge devices, and taking pre-orders for the phones. Microsoft Devices will launch their latest smartphone – Lumia 640 XL – in the region during the event.

Lenovo will launch its S60 smartphone at the event, with UAE being the first country in the region to receive the Dh799 device.
In addition, Toshiba says all the Notebooks it sells this Gitex Shopper will receive a free Windows 10 upgrade.
"Gitex Spring is one of the peak selling season for tech electronics in the region. We expect to see the demand for Notebook category this Gitex , as all Notebooks sold this Gitex will have a free upgrade to Windows 10," Santosh Varghese, General Manager of Toshiba Gulf, confirmed to Emirates 24|7.

As existing players dole out deals and discounts, new players are set to challenge them with their own set of freebies. "We are also pleased to welcome 20 first-time brands, distributors and retailers at the show this year, including Vsun, Hisense, Quantum and Obi Mobiles – new entrants into the Middle East smartphone market offering powerful mobile technology and a unique line-up of smartphones at extremely affordable prices," says Mosafer.

Even before the start of the show, the Samsung Galaxy S6, the HTC One M9, the iPhone 6 and iPhone 6 Plus have all witnessed a Dh600 price drop in the ongoing smartphone festival with telecom operator du.

Retailers Emirates 24|7 spoke with maintain they are planning aggressive deals and discounts as the Apple vs Samsung vs HTC vs Sony vs Lenovo vs Huawei and more rivalry becomes red hot.

"We've lined up a number of different promotions this Gitex, including bundled offers and discounts. The demand for bundled offers is often higher, so we are focused on giving customers a selection of products at extremely attractive prices," Nadeem Khanzadah, Head – OmniChannel Retail at the Dubai-based electronics major Jumbo Group, tells Emirates 24|7.

"As always, our bundle offers include only high-quality products, which is what customers expect from our brand," he says.

"We shall be showcasing the latest and the best products with lots of unique value added bundles and benefits for the shoppers, as well as some incredible price drops on high demand products," says Sean Connor, General Manager, Plug Ins, another Dubai-based electronics retailer.


"The team has worked on bringing in a pre-edited assortment which will help the shopper make easier and faster decisions. There are surprise elements and excitement built around giving a great memorable experience to the customers," he adds without revealing the offers.

"New launches from big brands like Apple, Samsung, Sony, and HTC are sure to attract a large number of shoppers, especially their phone and computer categories. Exciting releases like the HTC One M9 and the latest Apple Macbook range, which we will feature, are expected to do very well," adds Jumbo's Khanzadah.

Samsung, which last week unveiled in Dubai the Galaxy S6 and the Galaxy S6 Edge, its spearhead smartphones, says it will be out in full force at the show.

"Samsung has confirmed that visitors can experience their new flagship devices, the Samsung Galaxy S6 and Galaxy S6 edge and will be taking pre-orders for these devices which will be launched globally on April 10, 2015," says DWTC's Mosafer.


Jumbo's Nadeem Khanzadah
The newly launched Samsung Galaxy S6 and Samsung Galaxy S6 edge are available for pre-order, and will be on display for a hands-on invitation. Analysts and early adaptors claim these are the best smartphones so far to come out of Samsung's stables, and savvy Dubai consumers, visitors and tourists are bound to give these phones a second look.

"Gitex Shopper attracts consumers from across the region, and this year we're excited to give every visitor the chance to experience our new flagship devices, the Samsung Galaxy S6 and Galaxy S6 edge," said Marco Vocale, Head of Corporate Marketing, Samsung Gulf Electronics.

Visitors to the show can pre-order the smartphones at the Samsung stand. "Customers can also expect to see our slimmest smartphones to-date, the Samsung Galaxy A3, Galaxy A5 and Galaxy A7 on display, along with our digital appliances and our smart TVs. Shoppers can look forward to exciting promotions and unbeatable deals," said Vocale.

"We will be offering inaugural deals for the Galaxy S6 and Galaxy S6 Edge," Ashish Panjabi, COO of Jacky's Electronics, which also manages Samsung's branded outlets, told this website during the Dubai launch of the Samsung's new phones at the Armani Hotel in Burj Khalifa.


Sean Connor, General Manager, Plug Ins

Apple's iPhone 6 and iPhone 6 Plus have had a sort of unimpeded run in the global smartphones market, landing Apple the coveted crown of global smartphone shipments leader according to most recent statistics.

The advanced technology and bigger sizes of Apple's new devices were as much responsible for the great showing as were rivals' lacklustre products.

However, with Samsung's latest launches pegged as the best from its stables so far, the battle is once again going to get fiercer.

"We're excited about the prospects of this year's spring event. We'll see smartphones continue to be the main draw at Gitex, with IT and panels also expected to deliver strong results," says Connor of Plug Ins.

"Smartphones, laptops, tablets, HD & UHD/4K TVs are amongst the hottest selling categories, and continue to lead the market with high-profile launches from brands such as Apple, Samsung, Sony, and HTC," says Jumbo's Khanzadah.

"As the recently released foreign trade figures for Dubai reveal, phones and computers were the largest significant traded commodities last year, with year-on-year growth of 9 per cent each. This year, electronic sales in the UAE market will be driven by these specific categories," he contends.

"With all the buzz around wearables at CES and MWC this year, we expect to receive more customer enquiries about smart add-ons, which we believe will be a space to watch in 2015," Khanzadah states.
"We anticipate that the second edition of Gitex Spring Shopper will be bigger and better in terms of both footfall and sale volumes. Besides showcasing our latest range, at Dell we look forward to an aggressive sell-out to strengthen our leadership position in the IT space across the Middle East," Rajat Rallan, Senior Brand & Category Manager, Dell Middle East, says in comments to this website.

"With the evolving customer experiences across various screen sizes, we see that our range of 2-in-1 convertible notebooks which combine PC performance with a tablet experience, to be the best selling category across a range of screen sizes and price points," he adds.

Laptop and smartphones manufacturer Lenovo said it will launch its S60 smartphone at the Gitex Shopper Spring 2015, with UAE being the first Middle Eastern country to receive the Dh799 device.

"With this launch, we are looking to further build upon our strong position as the No. 3 smartphone vendor in the UAE and stay on track to achieve our eventual goal of becoming the No. 1 PC+ vendor in the region," said Sharay Shams, Smartphone Business Head for Lenovo Gulf, Egypt and Levant.

Follow Emirates 24|7 on Google News.