Get a 'rich' burst of satellite on your TV at home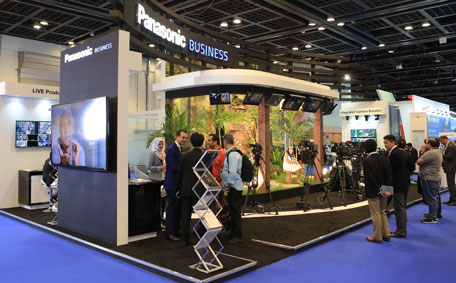 It was 4K all the way at Cabsat 2016 as the television, video and audio production industry were in full force to witness the emergence of ultra-high definition capabilities at the annual gathering of broadcast, entertainment and content professionals in Dubai.
From new 4K cameras to software that can seamlessly integrate the latest advanced technology into all forms of recording, editing and broadcasting technology, the industry it appears is finally ready to enter the 4K world full stream.
Several major regional broadcasters have already announced their aggressive foray into 4K. OSN signed a contract with Eutelsat 8 West B in an effort to add additional capacity including expansion of its offering, including the introduction of 4K ultra HD channels. OSN recently added eight new channels to its HD offering.
Meanwhile, both Panasonic and Canon introduced new cameras several of which have introduced 4K recording.
"This year at CABSAT 2016 we displayed the full set of tools needed for this next step forward in versatile 4K content production," said Hendrik Verbrugghe, Marketing Director, Canon Middle East. Canon also showcased a range of 4K lenses, sensors and reference displays.
Meanwhile, Panasonic unveiled several products including the VariCam LT and 4K ultra-high definition Camcorder WXF990.
According to Hitesh Ojha – Deputy General Manager, the model comes with a feature for cinema-like effects that allows the use of shooting techniques which are seen in cinemas, such as Slow & Quick Video, Slow Zoom and Dolly Zoom.
Analysts are predicting that the industry is yet to undergo a major transformation in the coming years with the adoption of cutting edge technology.
According to forecasts by PricewaterhouseCoopers, entertainment and media spend will reach $66 billion by 2018 – more than 900 free-to-air TV channels currently serve TV viewers across the Arab world.
Although satellite distribution still accounts for over 80 per cent of the regional market new opportunities to monetise include content via an emerging post-TV market.
The mass regional adoption of internet-driven content delivery platforms including Internet Protocol Television (IPTV) or TV delivered over broadband, and Over The Top (OTT) or content streamed directly to handheld devices, game consoles and SMART TVs connected to broadband, already contribute nearly 20 per cent of regional content delivery platforms.
Follow Emirates 24|7 on Google News.