Get gold iPhone 6 in UAE ahead of others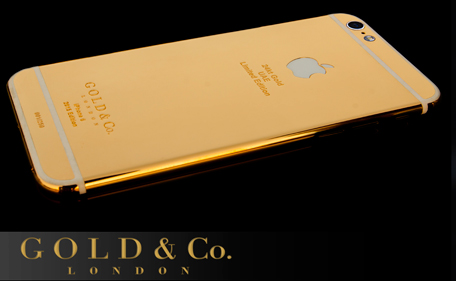 Call it the Midas touch, but iPhone 6 models in gold are like gold dust, with the company behind bringing the most-wanted gadgets in gold claiming that UAE residents can't have enough of them, never mind the steep price.

"We have a total of 438 orders as of last night," says a pleased Amjad Ali, CEO of Gold & Co London, the company that makes Burj Al Arab-branded 24K gold iPads and iPhones, among other solid gold gadgets.

"The UAE is our biggest market," he adds, maintaining that there have been more than 150 orders from the UAE alone, and the number is growing. "The local order-book is insane," he beams.


"The pre-orders have been coming in for six months now," says Ali, who said that he had to get back to his customers once it became clear that there were going to be more than one iPhone 6 model.

"We had to get back to our VIP clientele and ask them to pick a model when we were made aware that there were going to be two sizes," he says.
He expects to make the first initial deliveries right here in Dubai "on the 20th or the 21st," almost a week before the 'regular' iPhone 6 models become available in the country.

The standard iPhone 6 models will be officially available in the UAE as early as September 26 (from Etisalat) and for order on Apple's UAE Store from September 27 inwards.

Read: Etisalat to offer iPhone 6, iPhone 6 Plus on Sept 26; for free?

For those who don't mind spending a little extra to be the first ones to get their hands on the devices, there will always be a grey market and the phones may be available here in Dubai and the rest of the UAE soon after they become available in some global markets.

In addition, Ali says that his company is in talks with Sharaf DG to be the exclusive electronics retailer to sell the solid gold iPhone 6 models in Dubai. "it won't be available at all their outlets – only select ones," said Ali.

Emirates 24|7 was still awaiting confirmation from Sharaf DG on the pricing and availability of the devices at the time of publishing this article.

In addition, the company is also in talks with Dubai Duty Free for selling the gold iPhone 6 models and other gadgets that it makes.

"We have seen a lot of response for the iPhone 6 models, and if you order it now, we'll have to push the delivery to late October or early November," says Ali.

Unfortunately for Apple fans, Gold & Co London is not planning to launch a solid gold version of the Apple Watch. "I'm not sure if our clients, who will be sporting a very exclusive wrist-watch, will take that off for an Apple Watch," says Ali.

Apple opened up some of its global stores for pre-orders on Friday, September 12, and the iPhone 6 and iPhone 6 Plus will be available in the US, Australia, Canada, France, Germany, Hong Kong, Japan, Puerto Rico, Singapore and the UK beginning on Friday, September 19.

And while Apple is launching its devices in three colours – gold, silver and space gray – Gold & Co London is unveiling the solid gold versions of both the iPhone 6 and the iPhone 6 Plus in four colours: Gold, Rose Gold, Platinum, and Black Gold.

The price? Well, if you have to ask… The iPhone 6 in 24K gold starts at Dh17,995 (gold), and goes all the way up to Dh21,995 (black gold).

The 24K iPhone 6 Plus, on the other hand, starts retailing at Dh19,995 (gold) and goes all the way up to Dh23,995 (black gold).

Will people pay this amount for the iPhone 6 models? More than 400 have indeed pledged the money, says Ali, and there is no dearth of people willing to spend top dollar for the exclusivity, he adds.

The demand for the iPhone 6 in particular is certainly there. A Google search result for iPhone 6 returned 914 million results this morning.

Considering that the devices – the iPhone 6 and the iPhone 6 Plus – were unveiled by Tim Cook less than a week ago, on September 9, 2014, that number, closing in on a billion results, says something about the interest in Apple's new spearhead smartphones.

A similar search for Galaxy S5, Apple-rival Samsung's spearhead smartphone, throws up 151 million results (the S5 was unveiled more than six months ago, in February this year).

"The demand certainly surpasses our expectations," concludes Ali.
Follow Emirates 24|7 on Google News.