Gitex Shopper Dubai Entry fee hiked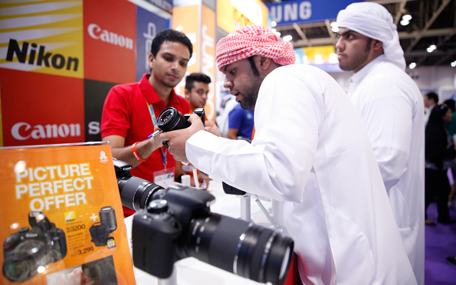 Visitors to the popular Gitex Shopper Spring 2015 consumer electronics exhibition in Dubai will have to shell out an additional Dh5 this year as the entrance fee has been hiked to Dh20 this year, according to a media statement from the organisers.

The region's largest consumer IT and electronics show runs from April 1-4 this year, from 11am until 11pm.

"Tickets are Dh20 per person, include access to both Gitex Shopper Spring and Shopper Smart Living and are available at the venue and select Emarat outlets," organisers said.

That's a 33 per cent hike from Dh15 that visitors paid to enter last year's Gitex Shopper Spring, when the event ran from April 23-26, 2014.

According to organisers, the show is bursting at the seams with the latest gizmos and gadgets, giving consumers the chance to benefit from deals and discounts on some of the latest devices. They also add that this year's event will offer an even wider choice and better deals for consumers.

"Gitex Shopper Spring is the perfect place to stock up on all the latest tech products for work, home or school at the absolute best prices. This edition promises more choice, more savings and a more convenient shopping experience than ever before, and we promise a wealth of exceptional deals, new product launches, and a full day's entertainment every single day of the show," said Trixie LohMirmand, Senior Vice-President, DWTC, organiser of Gitex Shopper Spring.

But does that justify the price hike and will consumers continue to grace the show like they did on previous occasions? Granted it's a 33 per cent hike, but it works out to a hike of just Dh5.
In addition, the organisers seem to have upped the ante by making the raffle sweepstakes much more lucrative. "For the first time ever, visitors at Gitex Shopper Spring have the opportunity to win 40 solid bars of gold or the value of their purchase back in vouchers, when they spend over Dh2,500," organisers said in the statement.

Just purchasing a ticket to the show is enough to put some lucky visitors in the running to win a Samsung Galaxy A5 smartphone, with 10 to be given away every day, it added.

In addition, the 'Scratch and Win' raffle gives visitors the chance to take home a wide range of Samsung products including the Samsung Tab S, microwave ovens, vacuum cleaners, printers and monitors, while the luckiest of all shoppers will drive away from the show in a brand new Mitsubishi Pajero Elite, they said.
Follow Emirates 24|7 on Google News.