Gitex Shopper has begun: iPhone 6, phablets lead the way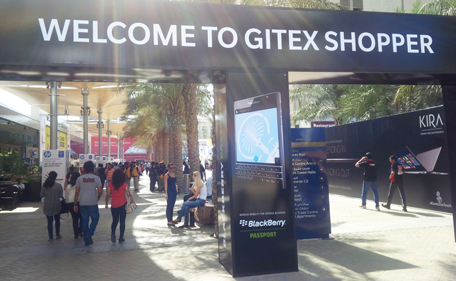 As the fall edition of the Gitex Shopper throws opens its doors today for an eight-day extravaganza of deals and steals, residents of the UAE are eager to fill up their Eid and Diwali hampers as demand surges for select smartphones and phablets this season.

Leading the charge is Apple's newly launched iPhone 6, which will officially retail in the UAE from today, even though the products have already filtered down into the grey market earlier in the week.


The other buzz word emerging this season is the phablet, with a new forecast by the International Data Corporation (IDC) that have termed the category as the fastest-growing in mobile devices, estimating these super-sized smartphones will account for nearly 25 per cent of all connected devices sold by 2018, including regular smartphones, tablets and PCs.

In a statement earlier, Nadeem Khanzadah, Head of Retail at Jumbo Electronics stated: "There is a good consumption of bigger screened devices, especially due to the ease of browsing. Expect this category to go through the roof."

Meanwhile, the conventional buys of the traditional laptops have made way for the more versatile ultrabooks that will lead the demand in the third segment at Gitex Shopper this year.

Dubai-based resident Sebastian D'Chuna said: "I have been waiting for Gitex to snap up a new phone, preferably the new iPhone 6. But it all depends on the price and the bundle offers that are being offered by retailers. If the older Apple models are being offered at a bargain, I have no qualms in snapping up the iPhone 5s if I get a, say, second free phone with it."

Arjun Ramaswamy, a Dubai-resident, stated: "Gitex shopping for me is usually a family affair, where once a year everyone gets their tech upgrade in the form of a new smartphone, a tablet or even a little gadget like a smartwatch.

"More than just the pricing, I also look at the bundle offers before making my decision. But the iPhone 6 Plus would be a great addition if the price is more reasonable than the Dh2,999 being offered on the Apple Store."

Priya Goswami, a college student in Dubai, said: "I'm looking for a detachable laptop that multi-functions as a tablet. My budget is very clear. All I need is to find the right offer with the right number of freebies that I require."

Wajahid Khan, a Sharjah resident, had a different take, saying: "Most of the bundle offers are usually additions of dead stock that retailers are trying to off load on unsuspecting customers. I am in the market for an affordable UHD TV. Brand loyalty aside, the retail that negotiates the final price after I rid us of the bundle offers gets my business."
Follow Emirates 24|7 on Google News.