How, where to get most cash for iPhone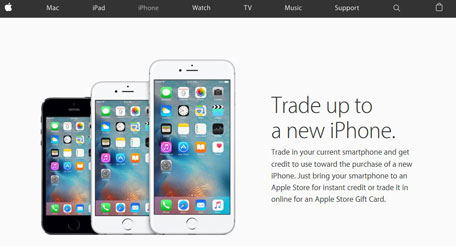 Apple in the UAE has started accepting older smartphones and offering credit – as much as Dh1,400 – towards the purchase of a new iPhone.
"Trade in your current smartphone and get credit to use toward the purchase of a new iPhone. Just bring your smartphone to an Apple Store for instant credit or trade it in online for an Apple Store Gift Card," Apple says on its in UAE Store website.
It's an open secret now that Apple Inc. is planning to unveil the iPhone 5se and iPad Air next month.
In fact, the devices could be available in the UAE as soon as within three days of their global launch, rumoured to be on March 15.
So, with about a month to go for the new iPhone to hit local retail stores, it may be prudent to start exploring your options for cashing-out on your old iPhone.
Historically, older iPhone prices start declining once a new one hits the stores.
Prices of iPhone 6 and iPhone 6 Plus sank by about Dh500 apiece in 2015 days before Apple unveiled the iPhone 6s and 6s Plus.
Read: iPhone 6, 6 Plus prices crash ahead of iPhone 6s, 6s Plus
It happened the year before that too. In 2014, Apple itself dropped the retail price of the iPhone 5s and the iPhone 5c officially by up to Dh500 after it unveiled the iPhone 6s.
Read: iPhone 6 launch impact: iPhone 5s, 5c UAE prices sinking fast
The same thing happened the year before that too. In 2013, prices of the iPhone 5 slipped by as much as 40 per cent (a huge discount of about Dh1,100) as the launch of next iPhone iteration neared.
Read: iPhone 5 prices sink to $422: Blame Samsung Galaxy S4 – and the upcoming iPhone 6
It's bound to happen this year too, and if you are planning to swap your iPhone, it may be better to do so now, when you can get better cash for it.
So, where can you get the best value for your older iPhone?
Apple Store
Apple has now extended its global trade-up campaign to the UAE, and is offering instant discounts and credits – in its physical stores in Dubai and Abu Dhabi. Apple employees appraise the device in-store, then give out gift cards that can be used toward the purchase of a new iPhone. Note that Apple won't pay you cash. Existing iPhone owners (or select other brands) can also trade their device in directly through Apple's recycling program online.
Axiom Stores
Physical and online retailer Axiom offers a trade-in facility for your old iPhones (and other brands too). It does acknowledge that it's hard to part with your phone, but promises to help you with "one seriously awesome purchase" in a cute video.
FoneSwap.com
A unit of gadget care firm Techocare, FoneSwap offers trade-in options for iPhones and other select brands.
KingSouq.com
An online retailer, Kingsouq too offers trade-in options for select smartphones, including the iPhone.
SellAnyPhone.ae
You might have heard of its auto equivalent, but SellAnyPhone.ae too promises to buy your phone in 30 minutes. The site promises to even send someone to your doorstep to inspect the unit and pay you cash.
Follow Emirates 24|7 on Google News.