Huawei Honor 5X sneak preview: Tycoon's phone on a miser's budget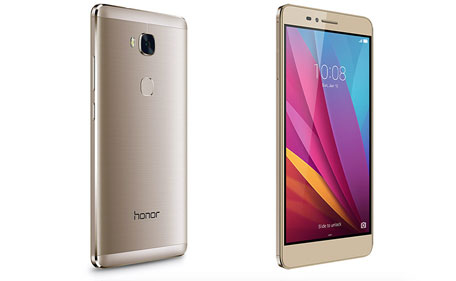 Boosted by a more than 100 per cent surge in smartphone sales in 2015, Huawei's Honor has been first off the block this Chinese New Year, unveiling its 'budget beast', the Honor 5X, on the first day of the Year of the Monkey.
Honor is Huawei's e-commerce brand, and has been instrumental in making the latter the world's third largest smartphone manufacturer in 2015 – and the first Chinese firm to ship out more than 100 million smartphones in a year.
The young Honor was responsible for more than 40 per cent of the 108 million smartphones that Huawei sold last year – a mean feat considering it did so in just the second full year of Honor's operations.
A single-minded focus on loading the smartphone with features at rock bottom prices is the primary reason why the Huawei-backed Honor has been able to bust the traditional stronghold segment of its older counterparts.
The Honor 5X is no different in that respect from the other smartphones coming out of the firm's Shenzhen-based stables.
The firm has managed to keep a tight lid on its price globally (it retails for sub-$200 in the US) as well as locally – available for Dh899 in the UAE (on www.HonorArabia.com).

"Globally, the reception to our Honor 5X device has been phenomenal [and] we are delighted to finally launch it to our customers here in the Middle East," said Chris Sunbaigong, Vice-President of Honor "The Honor 5X is set to change consumers' mind when it comes to price versus quality as it is packed with premium features that have never been seen before in its price category," he says.
"This underlines our ongoing commitment to the end-smartphone users here – we are genuinely offering unmatchable experience to digital natives who are value conscious," he adds.
Emirates 24|7 got our hands on the dual-Sim device a good 10 days before its official launch in the region, and here we bring you a sneak preview of what to expect from this pocket-friendly, features-rich smartphone.
"We challenge you to look at the specs, look at the price, then look back at the specs and not be impressed," says Chris. Let's do exactly that.

Features first
If we haven't said it before – this one seems to be bursting at the seams with features.
The Honor 5X gets a Qualcomm 64-bit, 1.5GHz octa-core processor, an upgrade over the 1.2GHz (homemade Kirin 620) that its predecessor (4X) sported under the hood.
The 5X also gets an upgraded display – while the screen size remains at 5.5-inch (any bigger would be a handful in any case), the resolution goes full HD with a sharp 1920x1080 display (the same as Apple's iPhone 6s Plus).
The device boasts 2GB RAM and comes with a solitary 16GB internal storage option (double that of 4X) – a bit less than what one might need for storing apps and images, but a 128GB expandable memory in the form of a microHD slot more than makes up for that.
In fact, the 5X is the first Honor phone to feature three different card slots: nano-SIM, micro-SIM, and microSD. This, says the firm, offers improved compatibility over dual nano-SIM solutions.
At 158 grams, it's a good 34 grams lighter than the iPhone 6s Plus but 5 grams heavier than the Samsung Galaxy s6 edge+.

Design and build quality
It's the design and looks department where the device gets not just an upgrade over the 4X, but a massive makeover – thanks to a metallic body crafted in "design inspired by the famous Guggenheim Museum in Spain".
The device is sleek (8.15mm) and the aerospace-grade aluminum body can give many a flagship a run for their money – at half the price.
Clearly, Honor hasn't cut corners when it comes to the body, with diamond-polished alloy finished through a special brushing technique instantly lending the phone the flagship look-and-feel, complete with a laser-etched rear logo.
Like all Honor smartphones, the screen comes pre-equipped with a factory-applied screen protector, a feature we heartily support and wish other phonemakers follow too. The phone is available in three colours – Gold, Grey and Silver.
One bone we have to pick with the device is its bezel, which remains unnecessarily generous, wasting prime real estate when it comes to display.

Camera
Honor has its friends Samsung and Sony to thank for its camera capabilities.
The 5 MP front camera is Samsung/OV with an F2.4 aperture, 22 mm wide-angle lens with four elements, large 1.4 micron pixel size, and blue glass infrared filter, and an 88-degree viewing angle for panoramic selfies.
The 13MP rear camera is cherry on the proverbial cake, with an anti-reflective coating helping the lens absorb more light and thus resulting in better shots in low-light conditions.
The rear camera boasts a wide F2.0 aperture, 28mm wide angle lens with five elements, blue glass infrared filter, and macro mode for super close-up shots. In addition, a heavy-duty, fingerprint-resistant cover means less of smudged images.

Software
The Honor 5X runs Android 5.1 Lollipop with Huawei's EMUI 3.1 on top.
A lot of commentators believe that the Huawei EMUI is a tool to make the firm's Android phones look and feel like the iPhone. Perhaps. But that's not a bad thing, we think.
However, vanilla Android isn't bad either, by any stretch of imagination, and the EMUI layer seems to be slowing down the speed of app response albeit marginally.
Nevertheless, Honor has added new privacy features that allow users to hide their home screen apps, store personal files in a safe place, and protect sensitive information.
For hardcore gamers, an additional feature that shows incoming calls as a pop-up rather than on a full-screen mode while playing a game is godsend. The calls, after all, can wait.

Performance / Battery life
There's reason why the 5X has added several feathers to its crown since its launch at the CES 2016 in the US.
The second-generation adaptive fingerprint sensor of the 5X allows linking up to 10 fingerprints to access personalised elements of their device – you can assign the phone to call a specific contact with one fingerprint – say, your index finger. Then, you may assign your thumbprint to activate a different app – a feature that works in the lock-screen mode too.
Using advanced technology, it boasts a self-learning capability that also prevents failed recognition caused by wet hands or partial fingerprints.
The PC-grade GPU also lends the phone the ability to run 3D games.
Besides being a features-packed phone, it is also a powerhouse when it comes to battery life. A 3000 mAh battery more than suffices for a full-day of moderate to heavy usage.
On the other hand, Honor's SmartPower 3.0 (which supposedly helps save up to 30 per cent of battery life) coupled with pesky (yet useful) reminders about power-sapping apps running in the background means that one can actually stretch the juice much longer if it comes to that.

Our verdict
Honor has another winner on its hands with the 5X, with a top-of-the-range fingerprint scanner, high resolution camera with trademark modes and features, wide screen, sharp display, metal and glass body, and more at Dh899. One wonders how's Honor making any money at all… but money it is making, indeed.
The firm powered its parent's bottomline by a neat $6 billion (Dh22 billion) in 2015 – a 250 per cent increase over the $2.4 billion that it made in 2014.
A similar growth rate will see it register revenues of $15 billion in 2016. And if the Honor 5X is any indication, the firm has started that quest with just the right device.
Follow Emirates 24|7 on Google News.