Indians, Italians win UAE rail deal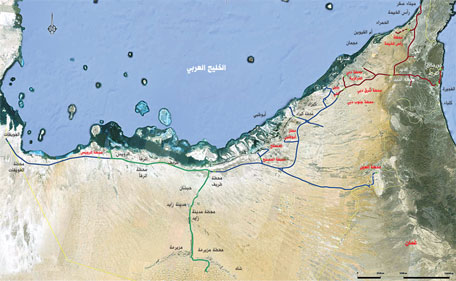 The UAE has awarded a Dh3.3 billion contract to a consortium of one Indian company and two Italian firms involving construction and engineering work for a mega rail project that could cost a total Dh40 billion.
The Mumbai-based Dodsal Engineering and Construction PTE, which has a regional headquarters in Dubai, and Italy's Saipem SPA and Tecnimont SPA were awarded the deal after competition from other global firms.
The Sharjah-based daily Alkhaleej said this contract involves construction and engineering design rail work to link Habshan and Ruwais in the western region.
It said the first phone of the project would be completed in 2013 while the second stage linking Shah with Habshan would be finished in 2014.
Etihad Rail has estimated the project's total costs at Dh40 billion and that once it is completed, it will have a capacity to transport nearly16 million passengers and 50 million tonnes of cargo per year.
The capacity could climb to 110 million tonnes of cargo and two million containers after the project is linked to the planned rail way in the Gulf Cooperation Council (GCC) in 2030.
According to Etihad Rail website, the railway will connect the UAE to Saudi Arabia via Ghweifat in the West and Oman via Al Ain in the East. The railway will be built to link the principal centres of population and industry of the UAE, as well as to form a vital part of the planned GCC railway network, said Etihad Rail, which was formed in line with a federal law in 2009.
"Built to international standards, Etihad Rail's state of the art network will enable the rapid transport of passengers and freight, opening up new trade corridors and journey opportunities," the company said.
"Once complete, the project will redefine logistics and transport in the region, providing as a safe, efficient, sustainable network that links all corners of the UAE, and eventually, the UAE to the wider GCC….…this extensive investment will support the Government's continued mission to build a diversified economy and continued economic growth."
Follow Emirates 24|7 on Google News.