iPhone 5s, Galaxy S4 be warned: Dh899 Google Moto G is in Dubai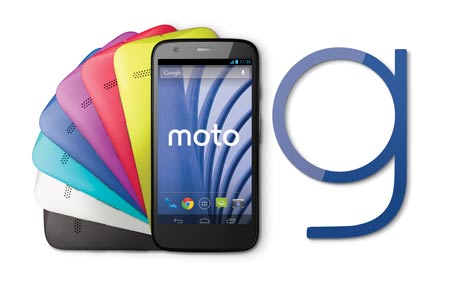 Targeting 500 million consumers worldwide, Google (NASDAQ:GOOG) on Monday launched Motorola's much-anticipated affordable Moto G smartphone in Dubai, with the device available in the UAE's major electronics stores since Monday night at prices starting Dh899 for the 8GB variant of the new phone.
According to officials at the launch, which was staged in Dubai's Atlantis hotel, the smartphone is best in its class with a 4.5-inch full HD display and a 1.2GHz quad-core Qualcomm Snapdragon 400 processor. And while the Moto G was launched in the US last November, Motorola officials assured us the version available in Dubai is better in that it has dual SIM capabilities, unlike the one that was launched in the US for $179 (Dh657).
That perhaps also explains the Dh242 difference between international and local pricing of the 8GB model. The 16GB version of the smartphone will be available for Dh999 in the UAE. But that said, the Moto G is available at about one-third the price of Apple's (NASDAQ:AAPL) spearhead iPhone 5s and even Samsung's (NASDAQ:SSNLF) Galaxy S4. The new Moto G smartphone comes with 1GB RAM.
"There will be 500 million consumers worldwide looking for a sub-$200 smartphone this year," Magnus Ahlqvist, corporate vice-president for Europe, Middle East, Africa and Asia Pacific at Motorola Mobility, told Emirates 24|7. "The Moto G is the best smartphone in its class," he noted.
"Motorola invented the cellphone," proclaimed a proud Ahlqvist, "and now are redefining it with the Moto G," he added. "While Google has changed the search, navigation and video insudtry, we aim to do the same in smartphones," he said.
Motorola says they are offering a world-class smartphone to those who can't - or don't wish to - spend Dh2,500 or more for a top-of-the-line smartphone. "People all around the world want to be a part of the mobile Internet so they can access the world's information, share, and connect with the things that matter to them. But the smartphone industry has relegated hundreds of millions of smartphone buyers to second-class status, preventing them from experiencing the mobile Internet at its best," he said.
"We talked to 15,000 consumers all around the world to find out what was most important to them, and used what we learned to create Moto G, an affordable smartphone that does not compromise on quality, style or experiences," Ahlqvist added.
"The response to Moto G in North American and European markets has been phenomenal and we are pleased to bring this advanced smartphone to consumers in the UAE," said Javier Villamizar, President – Global Distribution, Brightstar. "We are confident that Moto G will appeal to the region's consumers who demand high-performance, quality and value-for-money handsets."
Motorola Mobility was acquired by Google for $12.5 billion in August 2011, seven months after it was spun off by its parent company into an independent company. The acquisition was said to "enable Google to supercharge the Android ecosystem".
Nevertheless, even as the Moto G – and before it the Moto X – run on Google's Android platform, Motorola officials maintain that they do not receive any specific privileges when it comes to Android, but Google's guidance does make a huge difference to the company's operations.
"I get asked often how is Motorola Mobility different under Google," said Ahlqvist. 'For one, it's given us focus – we're launching far fewer devices now, but the devices are more targeted," he said.
The device runs on latest Android KitKat 4.3 with a guaranteed update to the latest Android KitKat 4.4.2. The Moto G also offers users a huge 50 GB of free storage on Google Drive for two years - over and above the 15GB regular free storage - even as officials at the launch did not speculate on what Google might charge per GB of free storage after the expiry of the two-year period.
"It's an exceptional smartphone at an exceptional price," noted Ahlqvist. The word 'exceptional', nevertheless, was bandied about for more than a few toms during today's presentation.
Moto G is the 'affordable' cousin of the more ambitious Moto X, and comes with back covers in six different colours – "to match your mood," says the device's literature.
The company is expected to launch the Moto G in India and a host of other markets this week, although China remains out of bound for google – and therefore Motorola Mobility – for now. The Chinese government has imposed a ban on Google services.
Nevertheless, the affordable smartphone is expected to do well elsewhere, including here in the UAE, owing to its price-point and features-laden profile. While it is not a premium brand phone like the iPhone 5s or even the 5c, or Samsung Galaxy S4, it does seem to have the most up-to-date operating platform for a smartphone in its class – or any other class.
Besides, Motorola promises a battery life that will "last all day long" and comes loaded with a 1.3MP front camera and a respectable 5MP rear camera. The new smartphone mimics Moto X's flick-of-wrist commands, meaning that you can activate its camera by flicking your wrist twice (while holding the phone, of course).
Google is set to release its Q4 2013 earnings and full year results on tomorrow, January 21. During the past year, Google's stock has spiked up by 55 per cent. As investors await those results, the focus will also be on Motorola Mobility and its profitability.
Follow Emirates 24|7 on Google News.