iPhone 6s, 6s Plus UAE pre-orders start @ Dh2,400; get before Eid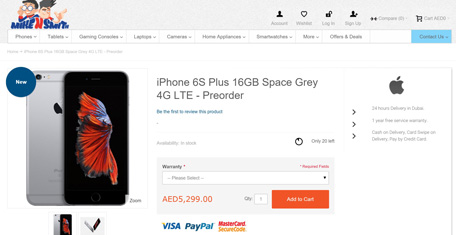 First the good news: Officially or otherwise, Apple's iPhone 6s and iPhone 6s Plus will soon be in the UAE.

And now, the even better news: While UAE residents have had to pay a hefty premium in the past to get our hands on Apple devices before their official availability in the country, there is at least one online retailer that is currently accepting pre-orders for iPhone 6s at almost the same prices as in the US.

Online retailer KingSouq.com has listed the iPhone 6s (16GB version) at Dh2,400, with free shipping and cash-on-delivery thrown in as deal sweeteners.


However, the retailer has an 'Out of stock' and 'Coming soon' tags on the iPhone 6s and iPhone 6s Plus.

An analyst said on condition of anonymity that, sometimes, new online retailers use rock-bottom pricing as a bait for customers to register with them, offering them a database of contact addresses to tap into.

Among other retailers, CrazyDeals.ae is accepting pre-orders for the iPhone 6s at Dh3,199 (16GB), Dh3,499 (64GB), and Dh3,999 (128GB), including free shipping.

"CrazyDeals has successfully launched iPhone 6s and 6s Plus today morning," Vikas Joon, Brand Manager at CrazyDeals.ae.

"The launch has been a success as we have already started receiving orders for the same," he said. "Currently this is on pre-book mode only. We will start shipping and delivery of the phones from September 21 so that we deliver happiness before Eid," said Joon.

Several other dealers have, like in previous years, added a margin to the US suggested retail price, offering pre-orders for the 16GB iPhone 6s to UAE residents for Dh4,499 (MikeNSmith.com) and Dh4,699 (BuyOnDubai.com).

It's a similar story with the iPhone 6s Plus, with KingSouq.com listing it for Dh2,800 (almost the same price as in the US) but not accepting pre-orders, citing 'Out of stock' and 'Coming soon' tags.

The best 'available' offer is from CrazyDeals.ae, which is offering the iPhone 6s Plus starting at Dh3,499 (16GB), Dh3,999 (64GB) and Dh4,299 (128GB).

Further down the price pyramid, MikeNSmith.com lists the 6GB iPhone 6s Plus for Dh5,299 while BuyOnDubai.com seeks Dh5,500 for the same model.


Apple Inc. (NASDAQ:AAPL) has said that pre-orders for its iPhone 6s are on track to beat last year's 10 million opening weekend sales of iPhone 6.

"Customer response to iPhone 6s and iPhone 6s Plus has been extremely positive and pre-orders this weekend were very strong around the world," the company said in a statement. "We are on pace to beat last year's 10 million unit first-weekend record when the new iPhones go on sale September 25," it noted in a statement.

"As many customers noticed, the online demand for iPhone 6s Plus has been exceptionally strong and exceeded our own forecasts for the pre-order period. We are working to catch up as quickly as we can, and we will have iPhone 6s Plus as well as iPhone 6s units available at Apple retail stores when they open next Friday," it said in the statement.

However, analysts are viewing this as a not-so-significant improvement since, unlike last year, this year's expected numbers include China pre-orders, which means that, minus China, the growth would have been negligible.

Last year, Apple had 4 million iPhone 6 pre-orders in 24 hours, going up to 10 million in the first three days. This year, though, the inclusion of China more than doubles the potential market for launch day compared to last year when the iPhone 6 was made available for pre-order in China in mid-October.

"We expect the actual 6s opening weekend number that will likely be announced on Monday, September 28, to be 12-13 million units," said Gene Munster, managing director and senior research analyst at Piper Jaffray.

Apple said during its September 9 event that both of the new iPhone models will be available in Australia, Canada, China, France, Germany, Hong Kong, Japan, New Zealand, Puerto Rico, Singapore, the UK and the US beginning Friday, September 25, with pre-orders beginning Saturday, September 12.

"From a high-level, the iPhone 6s cycle seems to be off to a 10-20 per cent better start than the iPhone 6, but note that given China is launching for the first time in the initial launch. Excluding China, the numbers likely suggest 0-10 per cent growth from the [iPhone] 6 launch," he said.

"We are modelling 3 per cent year-on-year growth for the 6s cycle. Given investor concern around the difficult comps in 2016, we view today's update as a solid start to the 6s cycle," said Munster, giving the Apple share an 'outperform' rating, with a target price of $172 (yesterday's price: $115).

Interestingly, for the first time since it launched the iPhone 3GS in 2009, Apple hasn't revealed either the first 24-hour or first weekend pre-order data this year.

Follow Emirates 24|7 on Google News.