iPhone separation can drive you mental?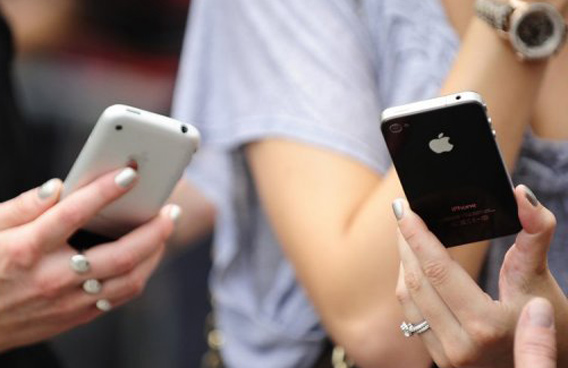 "My phone has been acting funny of late. It's draining up battery life. But I cannot do without my iPhone. I have to live with it," was how a friend from Australia described her situation during an online chat last week.

New research has found that separation from an iPhone, even for a short while could cause serious psychological and physiological effects on iPhone users, including poor performance on cognitive tests.

There is a simple remedy being suggested as well – iPhone users should avoid parting with their phones during daily situations that involve a great deal of attention.

According to a research by the University of Missouri that was published in the Journal of Computer-Mediated Communication , "when iPhone users were unable to answer their ringing iPhone during a word search puzzle, heart rate and blood pressure increased, self-reported feelings of anxiety and unpleasantness increased, and self-reported extended self and cognition decreased."

iPhone users were assigned tasks to solve s simple word puzzle separating them from their devices.

When the same set of participants was assigned a similar test with their iPhone, it was observed that their heart rate and blood pressure levels returned to baseline and cognitive performance increased.

"Again, self-reported feelings of unpleasantness and anxiety reflected participants' physiological responses such that perceived levels of unpleasantness and anxiety were lowest when participants were in possession of their iPhone," the paper notes.

While the study involved iPhone users, it would be interesting to find out if users of other smartphone brands would have similar outcomes in a similar study.

Earlier research had indicated that users of iPhone are more addicted to their devices compared to other brands and are also more prone to stick on to the brand.

An average user, it is said, could be checking his device anywhere between 60 and 110 times a day. There is even an app on the iOS App store for users to reduce their obsession with the device.

Meanwhile, Apple has announced of a new record for app store purchases during the first week of 2015. According to the company the first week of January set a new record for billings from the App Store with customers around the world spending nearly half a billion dollars on apps and in-app purchases.

It also noted that the New Year's Day 2015 marked the single biggest day ever in App Store sales history.

In 2014 App store billings rose 50 per cent and apps generated over $10 billion in revenue for developers. The company also pointed out that to date, App Store developers have earned a cumulative $25 billion from the sale of apps and games.

"This year is off to a tremendous start after a record-breaking year for the App Store and our developer community," said Eddy Cue, Apple's senior vice president of Internet Software and Services. "We're so proud of the creativity and innovation developers bring to the apps they create for iOS users and that the developer community has now earned over $25 billion."

During the holiday season App Store customers helped make history with their support of Apps for (RED), a special initiative on the store with exclusive content where all proceeds went to the Global Fund to fight AIDS. Apple donated $20 million this quarter, and since partnering with (RED) has donated over $100 million.

Follow Emirates 24|7 on Google News.