Lenovo's Dh999 'Phabulous' response to iPhone 6s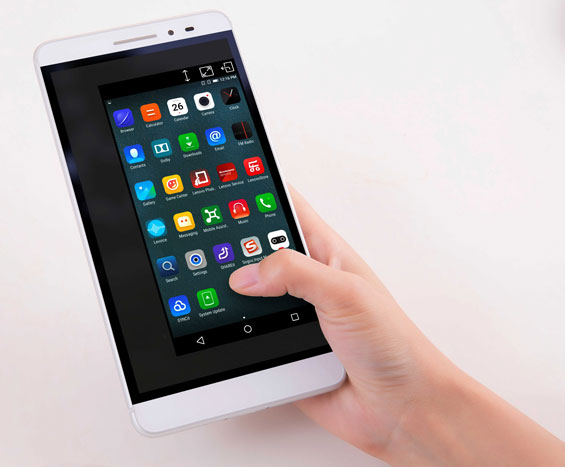 If big is better, Lenovo's on a charm offensive.
The Chinese firm yesterday unveiled one of the world's biggest phablets in the UAE, staking its claim in the affordable-yet-high-performance hybrid category.
And while we've seen mainline phablets gaining in size recently (think the 5.5-inch iPhone 6s Plus and the 5.7-inch Galaxy S6 edge+), the Lenovo Phab Plus takes the cake at a massive 6.8-inches.
In fact, Lenovo spared the UAE the even bigger Phab (7-inches) that was launched simultaneously with the Plus at the IFA Berlin tech fair earlier this month.
Jeff Meredith, Lenovo's General Manager and Vice-President for the Tablet Business Unit, told Emirates 24|7 that the device is in a category of its own, and it wasn't being positioned as a replica of one of the popular phones in the market.
"I don't start with 'I want to make one like that'… If you do that, then whatever you do won't be unique," Meredith told this website on the sidelines of the device unveil in Dubai.
Jeff Meredith, Lenovo's General Manager and Vice-President for the Tablet Business Unit. (Supplied)
Meredith added that the Dh999 phablet will be on sale at Gitex Shopper, which starts this Saturday, October 3.
"We use our mobile devices to make phone calls just 7 per cent of the time," he said, adding that the bulk of what we do with our devices is watching videos, playing video games, social media and general browsing.
For that, says the Lenovo official, we would prefer a bigger screen size.
The 6.8-inch Phab Plus took about none months from concept to market, Meredith told us, adding that it was targeted at the young, urban dweller who would be looking at using her device extensively while in-transit.
He also noted that the Phab Plus was more targeted at the female who would have a handbag in which to keep the phablet.
When asked who he saw as competition, he noted that it was "everybody who makes phones and everybody who makes tablets," rather than any one particular company or device.
Even as the device seems a little bulky for single-hand use (unless you have an above-average palm), Lenovo has done a fine job of loading it with features while keeping a lid on the price so "you don't have to choose between price and performance".
He said: "With today's tech-savvy millennial generation in mind, Lenovo is addressing the popularity of larger-screen personal devices, while acknowledging the portability struggles associated with tablet computers."
The Phab Plus boasts a full HD display which Lenovo claims is optimised for one-hand usage. The Phab Plus is too bulky for one-hand use, but Lenovo has an innovative solution for that. Simply drawing a 'c' on the screen shrinks the display to a more-handy 5-inch or so, making it more usable. Drawing the 'c' in reverse will take you back to the big-display mode.
Other gimmicks include a double-tap on the screen to wake it up, long-press anywhere on the screen to take a photo, shake to lock, and answer calls through a series of voice-activated prompts.
The battery at 3,500mAH though may be a drag for such big screen even as Lenovo maintains that it offers up to 24 hours of talk time and 20 days of standby time.
But since it isn't talk time that we're looking for – in Meredith's own words, 'when was the last time you actually made a call with your phone?' – it would have been great if the battery had more juice for longer heavy-duty gaming and video-watching.
The dual-SIM PHAB Plus does, however, offer 4G LTW connectivity and boasts 13 MP rear and 5 MP front cameras, and 32GB of memory.
Its 6.8-inch full HD panel display has a resolution of 326ppi. It sports a Qualcomm Snapdragon 615 octa-core chip with 2GB RAM, and 3D surround sound thanks to the Dolby Atmos.
The device is encased in a uni-body design with round edges and polished aluminium buttons. It is just 7.6mm thick, weighs in at 220 grams – featherweight given the display size – and is available in three Gunmetal Grey, Titanium Silver and Champagne Gold colours.
Follow Emirates 24|7 on Google News.