Luxury Samsung Galaxy S7, S7 edge for UAE soon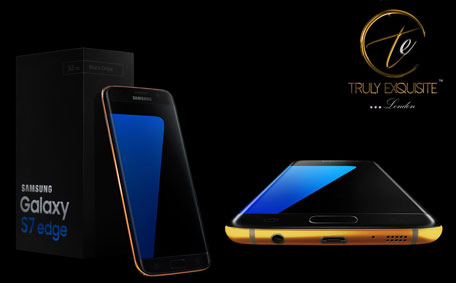 Samsung's latest Galaxy S7 and S7 edge smartphones may have been unveiled at MWC 2016 in Barcelona, Spain, but the finishing touches to these ultimate status symbols are being put at a workshop in the UK, with a special one being developed specifically for the UAE market.
UK-based-luxury customising firm Truly Exquisite says it will be the first company to offer the new, yet to be released Samsung Galaxy S7 & S7 edge in a 24K gold finish.
It will also make the devices available in Platinum and 18k Rose Gold finishes, it says.
"We are thrilled to announce that the highly anticipated new phone releases from Samsung will now be available to buy in three luxury finishes that will make this phone even more stunning," says Kunal Patel, owner and CEO of Truly Exquisite.
But while the rest of the world will have to contend with a gold-plated 'basic' version, the firm says it has better plans for the UAE market.
"This is just the basic version of the plated phones with plans to have special edition ones specifically for the UAE market very soon," Patel told Emirates 24|7.
The region is a special market for bespoke devices, he says, adding that even as the company announced the release of the phone just a couple of days ago (Friday), it has already received several enquiries.
"Most of our enquiries for the new phone have actually come from the Middle East. Saudi Arabia has probably had the most enquiries and orders so far. We've had [enquiries] from UAE as well," he told this website.
The company says it has already been taking pre-orders for the phones, which aren't due to be officially released by Samsung until March 11, 2016.
Prices will start from £1,700 (Dh8,653), it says, and promises to dispatch the phones 21 days after the official release date by Samsung.
Emirates 24|7 reported last week that, in the UAE, prices of the regular Galaxy S7 start at Dh2,399 while that of the regular S7 edge start at Dh2,799.
Truly Exquisite isn't the only firm planning bespoke versions of Samsung's new Galaxy S7 and S7 edge smartphones.
Goldgenie, another UK-based luxury customisation firm, says it will bring one out as soon as it gets its hands on an unlocked device.
"We anticipate working on this new Samsung device as soon as we can obtain one in the UK that is unlocked," a Goldgenie spokesperson told this website.
iPhone – the original bespoke smartphone
Samsung's new devices aren't the first smartphones – or the last, for that matter – to get the royal treatment. Apple's iPhones have been a traditional favourite of both the customising companies and the well-heeled buyers.
A couple of years ago. Amjad Ali, CEO of Gold & Co London, the company that makes Burj Al Arab-branded 24K gold iPads and iPhones among other solid gold gadgets, told this website that his firm had received hundreds of UAE pre-orders a couple of weeks before the 'regular' iPhone 6 smartphone became available in the country.

Read: iPhone 6 gets royal treatment in Dubai – gold, black gold, black platinum

Ali told this website yesterday that even as Gold & Co did customise Samsung's Galaxy S6 and S6 Plus last year, Android isn't really it's cuppa tea.
"We don't find the Android platform really in demand as one of our bespoke products," he said, adding that Gold & Co doesn't have specific plans for the S7 as yet.
That may be music to the ears of Truly Exquisite, which participated in the UAE's Big Boys Toys exhibition in Abu Dhabi last year, where it says it had a lot of enquiries for its products.
"One of our products was a fully covered Swarovski electric ride on Ferrari for kids," says Patel.
"We've delivered previous phone models to customers in the UAE and Qatar, but they were iPhones," he says.
"These were gold-plated with an engraved design that the customer wanted as well as a platinum and ostrich leather iPhone 6 Plus. These ranged from £2,300 – £2,800 (Dh11,707 – Dh14,252)," he says.

Get the freebie too
The phones will be shipped free of charge across the world, the firm says, adding that it will also offer free additional extras including a Samsung Gear VR and Wireless Charging Pad in addition to the devices being presented in a luxury wooden display box.
Samsung Gulf Electronics is now accepting pre-orders in the UAE for its new Galaxy S7 edge / S7, and is also offering a complimentary Gear VR to UAE residents who pre-order the latest Galaxy smartphone.
Truly Exquisite says it is expecting a high demand for the luxury precious metal finishes on both phones.
"Within 2 days of announcing these will be available, we've already had many people pre-order their handsets," Patel said.
"The handsets are 32GB but have a MicroSD card Sim tray to expand the memory. All of our handsets come unlocked as standard so will work on whichever worldwide network you have," the company says on its website.
Samsung's new devices will both sport an always-on display, which means users can get information at a glance without waking up their phones.
The always-on display is also smart, says Samsung, which means that it'll automatically disable when the phone is in your pocket or bag, or when it's face down, or when the battery is running low.
Samsung's new Galaxy S7 is equipped with a 5.1-inch display touting a 2,560x1,440-pixel resolution and a 12MP camera. The latest Galaxy smartphone is powered by a quad-core Snapdragon 820 processor with 4GB of RAM and comes with either 32GB or 64GB of storage, along with a 3,000mAh battery. The UAE pre-orders, though, are only for the 32GB variant.
The Galaxy S7 Edge adds a larger 5.5-inch display with curved edges and 3,600mAh battery. UAE pre-orders for the S7 edge too are limited to the 32GB variant.
Follow Emirates 24|7 on Google News.