Middle East's first 'mobile mall' launched in Dubai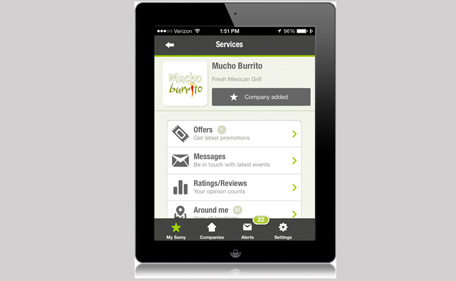 SAMY, an award-winning, direct mobile marketing and engagement network, is now available in the UAE, after a successful launch in Dubai.

SAMY is a mobile phone app, which enables merchants and shopping centres to broaden their brand marketing to new and existing customers by extending offers and promotions via mobile devices.

SAMY provides merchants an easy way to quickly integrate all the important retail touch points into one synchronised mobile platform.

For consumers, SAMY provides shopping convenience, value for money, discounts, savings and more by simply using their hand-held mobile devices.

The launch of SAMY in the UAE follows the successful launch of the mobile app in Canada and Europe, where the app quickly became the number one downloaded shopping app in the iPhone app store in two countries.

The app allows participating merchants to have a "storefront" inside the downloadable app which virtually acts as a "mobile mall", while users can subscribe to whichever ones they choose.

Businesses own the relationship with customers and can customise the content and frequency of their messaging to maximise the loyalty of their customers.

SAMY is launched by Igniva Technologies in the UAE.

Igniva is an innovation marketing company based in the Dubai Silicon Oasis.

"We are delighted to introduce SAMY to the UAE to provide efficiency and ease in connecting merchants with the country's diverse consumer base," said Yousef Shreim, President, Igniva Technologies.

According to the UN Broadband Commission report on the state of broadband 2013, the UAE ranks third in the Mena region, after Qatar and Bahrain, with 85 per cent individuals using the Internet.

Globally, the UAE comes in the 17th position ahead of the USA and Germany that come in the 24th and 19th positions respectively.
Follow Emirates 24|7 on Google News.