Nasa captures 'zombie screams' from stars?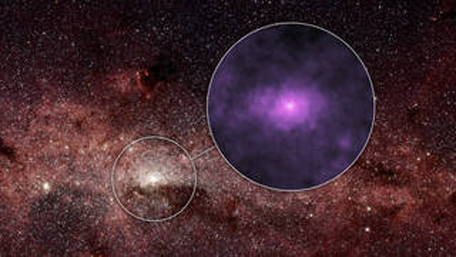 Nasa's Nuclear Spectroscopic Telescope Array, or NuSTAR, has captured a new high-energy X-ray view (magenta) of the bustling center of our Milky Way galaxy.

The smaller circle shows the center of our galaxy where the NuSTAR image was taken.

Peering into the heart of the Milky Way galaxy, NASA's Nuclear Spectroscopic Telescope Array (NuSTAR) has spotted a mysterious glow of high-energy X-rays that, according to scientists, could be the "howls" of dead stars as they feed on stellar companions.

"We can see a completely new component of the center of our galaxy with NuSTAR's images," said Kerstin Perez of Columbia University in New York, lead author of a new report on the findings in the journal Nature. "We can't definitively explain the X-ray signal yet -- it's a mystery. More work needs to be done."

The center of our Milky Way galaxy is bustling with young and old stars, smaller black holes and other varieties of stellar corpses – all swarming around a supermassive black hole called Sagittarius A*.

NuSTAR, launched into space in 2012, is the first telescope capable of capturing crisp images of this frenzied region in high-energy X-rays.

The new images show a region around the supermassive black hole about 40 light-years across. Astronomers were surprised by the pictures, which reveal an unexpected haze of high-energy X-rays dominating the usual stellar activity.



Pic credit: Nasa/JHU-APL/SwRI

New Horizons detects possible polar cap on Pluto

This image of Pluto and it largest moon, Charon, was taken by the Long Range Reconnaissance Imager (LORRI) on nasa's New Horizons spacecraft on April 15, 2015.

The image is part of several taken between April 12-18, as the spacecraft's distance from Pluto decreased from about 69 million miles (93 million kilometers) to 64 million miles (104 million kilometers).

For the first time, images from New Horizons spacecraft are revealing bright and dark regions on the surface of faraway Pluto – the primary target of the New Horizons close flyby in mid-July.

The images were captured in early to mid-April from within 70 million miles (113 million kilometers), using the telescopic Long-Range Reconnaissance Imager (LORRI) camera on New Horizons.

"As we approach the Pluto system we are starting to see intriguing features such as a bright region near Pluto's visible pole, starting the great scientific adventure to understand this enigmatic celestial object," says John Grunsfeld, associate administrator for NASA's Science Mission Directorate in Washington. "As we get closer, the excitement is building in our quest to unravel the mysteries of Pluto using data from New Horizons."

Also captured in the images is Pluto's largest moon, Charon, rotating in its 6.4-day long orbit. The exposure times used to create this image set – a tenth of a second – were too short for the camera to detect Pluto's four much smaller and fainter moons.

"After traveling more than nine years through space, it's stunning to see Pluto, literally a dot of light as seen from Earth, becoming a real place right before our eyes," said Alan Stern, New Horizons principal investigator at Southwest Research Institute in Boulder, Colorado. "These incredible images are the first in which we can begin to see detail on Pluto, and they are already showing us that Pluto has a complex surface."

The images the spacecraft returns will dramatically improve as New Horizons speeds closer to its July rendezvous with Pluto.

"We can only imagine what surprises will be revealed when New Horizons passes approximately 7,800 miles (12,500 kilometers) above Pluto's surface this summer," said Hal Weaver, the mission's project scientist at the Johns Hopkins University Applied Physics Laboratory (APL) in Laurel, Maryland.
Follow Emirates 24|7 on Google News.