New car-tech that could end speeding fines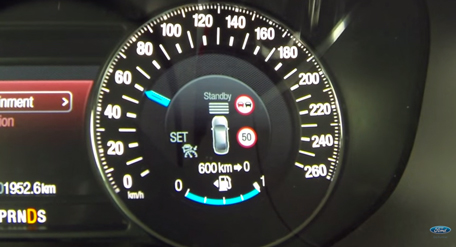 Ford has unveiled a new technology built into its new lineups that could practically put an end to over speeding fines. That's for those who accidentally over speed.

The new Intelligent Speed Limiter as Ford calls it automatically adjusts the speed of the car to the maximum speed limits rather than waiting for the driver to manually do so.

While several alert systems currently being used alert the driver when the car is speeding, the Ford system goes ahead and does the task on its own.

The system does not apply a sudden brake to limit the speed, rather it adjusts the fuel injection to the vehicle.

The system controls speed using engine torque by electronically adjusting the amount of fuel delivered rather than applying the brakes.

In case the vehicle overruns the speed limit, when it is going downhill for example, an acoustic warning is triggered.

The system monitors road signs with a camera mounted on the windscreen, and slows the vehicle as required.

As the speed limit rises, the system allows the driver to accelerate up to the set speed – providing it does not exceed the new limit.

Ford has introduced the new system starting with the new seven-seater MPV SMax, currently introduced in Europe.

"Drivers are not always conscious of speeding and sometimes only becoming aware they were going too fast when they receive a fine in the mail or are pulled over by law enforcement," said Stefan Kappes, active safety supervisor, Ford of Europe.

As a driver you will have the option to choose and opt to activate or deactivate the setting.

If you are the type who often get for unintentional speeding, you can choose to activate the speed limiter using the steering wheel controls.

The next step is to manually set a maximum vehicle speed. The maximum speed is then automatically adjusted according to information from the traffic sign recognition system.

Drivers will however have the option to deactivate the system and override the feature by pressing firmly on the accelerator.

Ford has posted this YouTube video explaining the features.






It remains to be seen when Ford plans to introduce the system into vehicles in the UAE.

According to statistics by the Dubai Police, over speeding continues to remain the number one cause of traffic fines.

According to media reports, more than 1.2 million traffic fines issued last year were related to over speeding.
Follow Emirates 24|7 on Google News.